Project Description
eCommerce Website Design for Tech Company
3D Solutech was founded with the aim of developing and manufacturing innovative 3D printing filaments in a wide array of fun and affordable color selections for individual makers and wholesalers alike.
Project Objectives
We wanted this website design to showcase the diverse color selection, affordable prices, and high compatibility with 3D printers that 3D Solutech creates. The previous site didn't provide wholesale and discount accounts for priority customers, nor did it share up-to-date shipping information for customers, so that functionality was a priority and led to our choice in BigCommerce as the eCommerce engine for the site.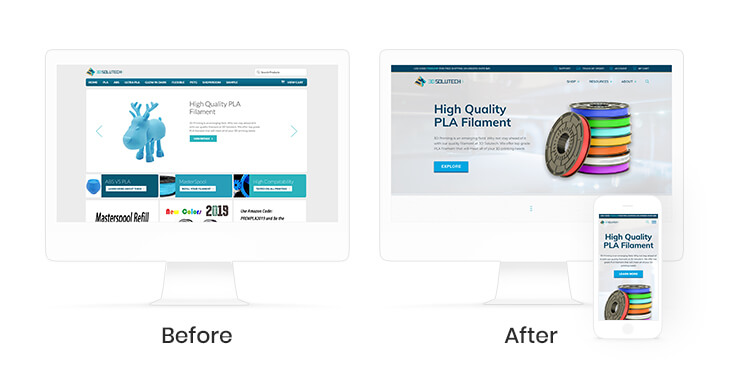 eCommerce Design Notes
The team at 3D Solutech wanted to create a website that had a clean and simple aesthetic, a neutral color palette, and a lot of white space. We designed the site within the existing color palette using:
Shades of blue
Gold
White
In terms of the design, we wanted to highlight the various colors of filament offered and examples of each. We designed the homepage to show off their latest colors immediately with an example of each.
Another important part of the website was to help users find the exact time of filament they need, so we featured a link to their resource center right on the homepage, as well as links to the number of different categories of filament.
From there, we created custom icons to add some variety to the design of the site and focus the user's attention on the values offered by the 3D Solutech team.
Website Development for eCommerce
This site sells its filament online to both individuals and wholesalers, so it was important for us to appeal to both audiences. We built the site on FusionCMS with BigCommerce as the eCommerce engine for the website. Using FusionCMS allowed for the custom front end design, as well as more robust pages like the resources page, as well as a gallery that shows off the filaments in use.
Using BigCommerce, we're able to offer promotions for free shipping after certain spend levels, as well as wholesale accounts with discounts, and even discount programs specific to schools, military members, and more.
Have a question about this build? Feel free to reach out to our team here!