Project Description
Website Redesign for Seattle's Favorite Health Food Spot
Emerald City Smoothie is a favorite of many for delicious and nutritious smoothies in a convenient way. Scattered throughout the Puget Sound area and even in Oregon, Colorado, Utah, and Connecticut, their franchise caters to everyday individuals seeking healthy options to accommodate their lifestyle.
Project Objectives
The previous website was designed and built by efelle creative in 2013 so we were excited to work with the ECS team to revamp their site. The previous site was outdated and didn't match their new branding, so the new design needed to better reflect that. As early adopters to healthy to-go options, acai bowls, and supplements, their site was previously more focused on fitness and health, while this new site they wanted to approach a holistic view of health for anyone from a family looking for a healthy breakfast option to an athlete hoping to fuel post-workout.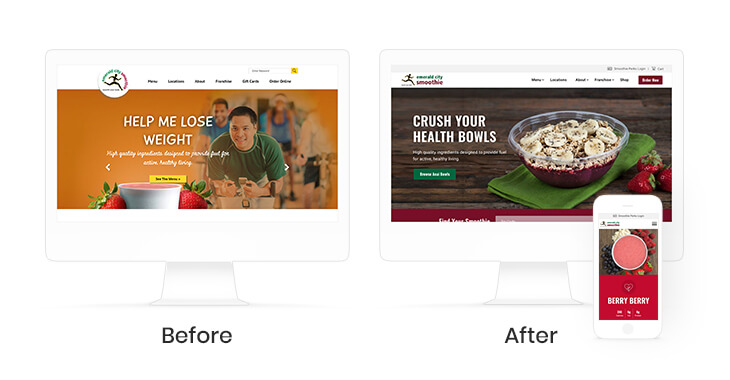 Website Design
With their interior stores being redesigned and an update to the logo, we wanted the website design to follow suit with this updated look and feel. Rather than the previous sport-centric website, we wanted the design to appeal to an overall healthy lifestyle. Emerald City Smoothie can help their customers reach any type of goal - whether it's simply finding a convenient and healthy snack, boosting their immune system, adding in more vegetables into their diet, or even helping them gain muscle mass.
We designed the homepage to allow users to first navigate by guiding them through different options based on their goals, both in the masthead and below, then we created a place for a featured ingredient of the month that allows the ECS team to continue to highlight their quality and functional ingredients. From there, we created another call to action for users to check out the entire menu using some beautiful high-quality photos of the delicious ingredients used.
The menu pages allow for filtering based on those goals, as well as subcategories that highlight the supplements, smoothie bowls, and boosters so users can see all of their options.
Throughout the website design, we sprinkle in photos of fresh fruit along with wood paneling imagery to match their store interiors. We also create calls to action to direct users to find locations near them and highlight an order option now through the sticky header. This makes it easy for users to order immediately upon arriving to the site or after educating themselves on the website about their offerings.
Website Development
The website was upgraded to our latest FusionCMS version so the Emerald City Smoothie team was using the latest technology. This version of FusionCMS allows for a modular backend so we only build the site with the modules that the ECS team will need like Product Pages, Category Pages, Locations Pages, and more. This makes it easy and streamlined on the backend for the ECS team to update.
One of the most important aspects of the site was the location map that users were directed to on product pages and throughout the website. This page needed to allow for both a map and list view of locations based on where the user searched. It also needed to then filter by the options available, including delivery, curbside pick-up, pick-up, and dine-in options. We were able to configure this map to then link off to details about each location, as well as options to order or get directions to the location right from the map itself.
Have a question about this website design or interested in learning more about one for yourself? Contact us and we'd be happy to help.