Website Redesign for Everts Air

Project Description
Website Redesign for Transportation Company
Everts Air was established in 1978 in the village of Eagle, Alaska, providing cargo and passenger service throughout Alaska. Now headquartered in Fairbanks, they specialize in serving the unique needs of customers who live in larger Alaskan cities as well as smaller remote locations.
Project Objectives
The goal of the redesign was to better portray the friendly and helpful nature of the Everts Air. The Everts team wanted a simple and clean design that focused on their service areas and made it easy to create a shipment, request an estimate, or track your shipment.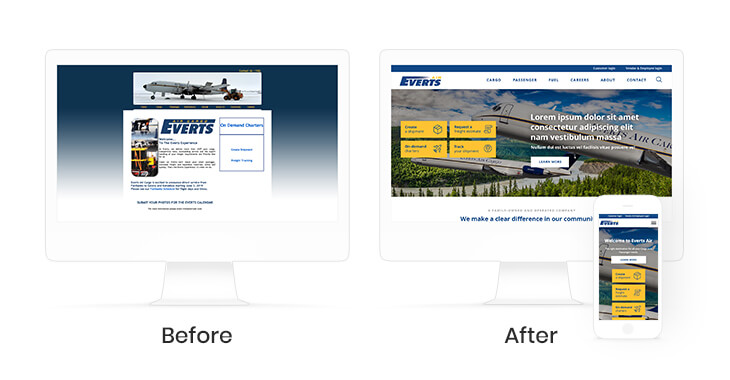 Website Design
Being based and operating mainly out of Alaska, we had some beautiful imagery to work with for the Everts Air website redesign.
Right in the masthead, the site has four calls to action, made for visitors to easily be able to find the right path. The CTA's include: "Create a Shipment," "Request a Freight Estimate," "On-Demand Charters," and "Track Your Shipment."
From there, the rest of the website design provides helpful yet easy to digest information for users. We kept the design clean and straightforward so that users could easily get their questions answered.
One of our favorite pages we were able to design and develop out was the Cargo page, which had a lot of information and jump off points that needed to be designed with user experience in mind. The page includes the ability to create a shipment, track, estimate, and quote a shipment, as well as provide an accordion menu of rates for different areas and types of shipments. We also implemented an easy photo module on some of these pages, making it easy for the Everts Air team to upload photos of different products to give users an idea of the size and shipments they're able to take on.
Website Development
With everchanging rates, it was important for the Everts Air team to easily be able to make updates throughout the site. Everything from the tables of rates to shipment information needed to be organized in the backend to make sense for anyone on the Everts Air team to be able to update it.
We built the site on FusionCMS, which made it so that the site had reusable modules without, photo galleries that are easy to add new photos to, and easily updatable tables that still look really nice and easy to read on the front end.