Project Description
eCommerce Website Design on BigCommerce
Based in Iowa, Lappe's Bee Supply is a producer and wholesale supplier of beekeeping supplies, package bees, queens, beehives, honey containers, Iowa honey and much more. They sell packaged honey bees to beekeepers around Iowa and the surrounding United States, including Illinois, Missouri, Kansas, Nebraska, South Dakota, North Dakota, Minnesota, and Wisconsin.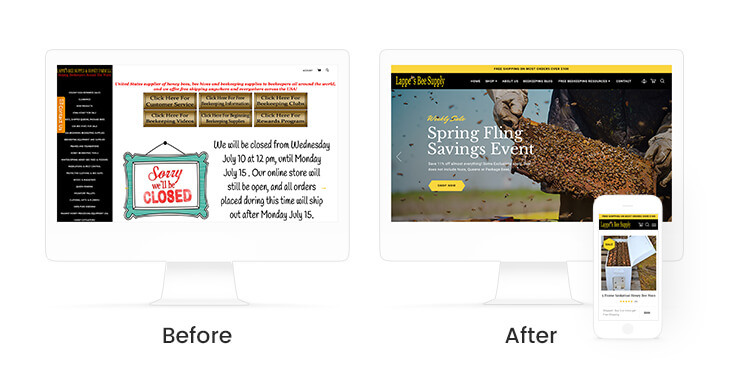 Project Objectives
While providing a wide range of beekeeping and honey-producing supplies, the team at Lappe's was looking to increase its market share for wholesale bee supplies and equipment. We wanted to streamline the site navigation and increase traffic through organic SEO and ongoing marketing efforts.
eCommerce Design
With bold colors of black and yellow and a wide variety of products, it was important that we kept the website design simple and intuitive for the user. We created a mega-menu for the navigation and broke down the products into different categories that would make sense for new and seasoned beekeepers alike.
Throughout the site, the call to action buttons were designed in a hexagonal shop, a nod to the shape of a honeycomb, keeping the design fun and on-brand, yet professional.
Website Development
We wanted to make the site easy to use for both the end-users, as well as the Lappe's Bee Supply team. Their large range of products and circulating inventory means that the site needs to be easy to use on both the front and back end of the site. We put the site on BigCommerce, which allows for numerous product categories, product filtering, and site search on the front end, and an easy to use management system.
With BigCommerce, the Lappe's team can easily add new products, add clearance prices, and even turn season products on and off on the website so they don't have to enter them multiple times. This easy to use functionality was important for the Lappe's Team so they could focus on building their business and not making website changes.
Ongoing Marketing
We are excited to partner with the Lappe's Bee Supply team to continue to build traffic, increase conversion rates, and increase their rankings through ongoing marketing. The new website will work great to convert users, and we are slowly building out the organic SEO so they can continue to increase their rankings.