Project Description
eCommerce Website Redesign for Product Supplier
Company Overview
SI Disposables has been providing professionals in the medical and beauty industry with the highest quality spa products to provide their clients with the best experience and keep them coming back.
Project Objectives
The SI Disposables team came to us looking for a website redesign that would allow their users to purchase directly from their site, something that their old website lacked. They wanted to rebrand their website to appeal towards medical spas, a large market for their products that they previously were not taking advantage of. This website was made to appeal to the smaller businesses that could not buy directly from their old website allowing SI Disposables to maintain higher profit in cutting out the middleman. Using a combination of FusionCMS and BigCommerce we were able to make this happen for them.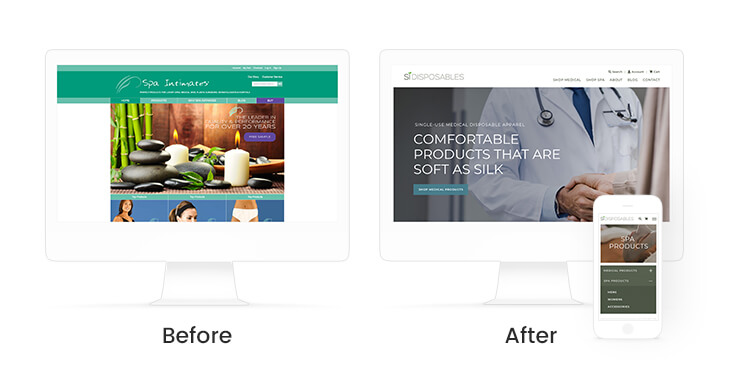 Strategy & Design Process
Because this site has products that can be used in both the medical and beauty industry we designed a mega menu that allows users in both industries to easily navigate towards products that will uniquely suit their needs, therefore not wasting any time between entering the site and checkout.
Headless Commerce
Our team went with a headless commerce approach for this project. This approach is beneficial for both the SI Disposables team and the user. All non-product pages are powered through FusionCMS which allows the SI Disposables team to easily edit and update content as they see fit to keep up with new growth in their industry. The eCommerce portion of the site is powered through BigCommerce which allows the team to easily add new products as they become available, offer wholesale pricing directly through the site and allow for ongoing marketing.