Project Description
Volusion Migration to Shopify Plus for Supplement Source
Supplement Source is Canada's most extensive online supplement store servicing Canadians from coast to coast and to the far north, and have served over 185,000 customers. They provide a number of protein powders, snacks, and other health supplements to their customers, offering new products and deals often.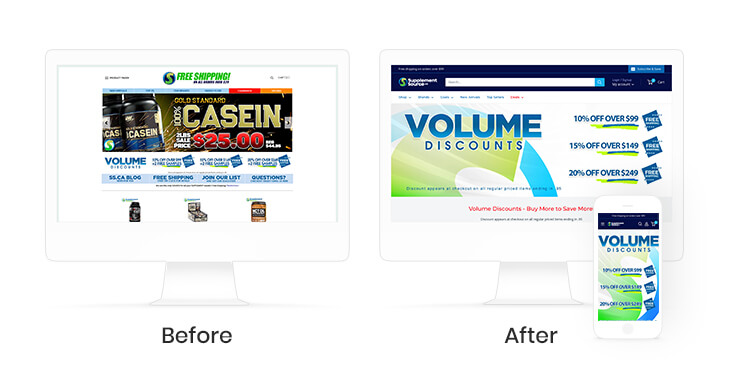 Project Objectives
The previous Supplement Source website was built on Volusion, but they were looking to move to a more robust and stable platform. We recommended ShopifyPlus and found more robust applications to help achieve the current custom functionality. They wanted the site to be more easily updatable on the backend as well as keep the clean and bold style of design.
Website Design Notes
The Supplement Source website was not very mobile friendly, so it was crucial that the theme design we chose was much friendlier on responsive devices. The team at Supplement Source described themselves as friendly, so we wanted that to come across in the design, as well as accenting it with their signature blue and green.
Volusion Migration
We migrated the entire site over from Volusion to Shopify. The switch from Volusion to Shopify was done with the goal of overall updating the site and putting it on a more secure platform, as well as making a much better checkout process. While we updated the design and created much easier to use functionality, there were also a few new key items we needed to include:
Easily Editable Discount Banner
Key/Featured Products
Blog Panel
Volume Level Discounts
We chose a theme that has the discount banner easily editable, as well as chose featured products so that the team at Supplement Source can easily make updates to their site. The site uses Shopify Scripts to create an automatic volume discount for orders over a certain amount on their site, which is one of the value points that the
They are also using the SELLY app to up-sell for products that have BOGO, Combo and Promo deals. The app makes it easy for the Supplement Source team to add discounts to specific products, as well as upsell and cross sell options specific to each product, and even customized recommendations. The app uses Shopify's latest API, making sure that Supplement Source doesn't have to duplicate variants.
The flexibility offered by Shopify is going to be great for this growing company and we're excited to see how they utilize it to continue their growth.