Project Description
eCatalog Web Design for Industrial Donut & Bread Making Equipment Company
Belshaw Adamatic Bakery Group has served the baking industry for 98 years and is a leading supplier of donut fryers, donut production equipment, bakery ovens, and bread makeup lines. Belshaw Adamatic provides equipment for retail and wholesale bakeries, QSR's, Supermarkets, Concession operators, and many more - in the USA, Canada and Worldwide.
Project Objectives
Belshaw Adamatic has been a long-term efelle client. We updated their site years ago and wanted to transition them to a new site as technology and styles changed. Our main goals included:
Updating corporate guidelines for sizing of logos and colors
Featuring the products and key product detail high up on the pages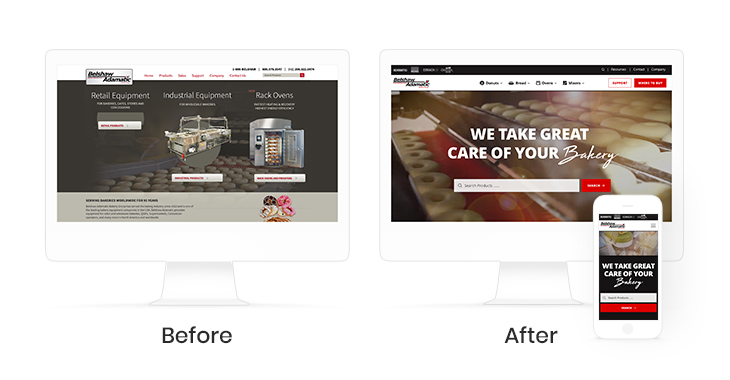 Website Design
Belshaw Adamatic had recently redesigned their logo so we wanted to make sure our design team incorporated those newer elements into an updated website.
Website Build
The company is also very detail-oriented so we used FusionCMS to improve the structure of their products and the overall look and feel of the site to make it more modern. It allowed for organizing hundreds of products and related documentation (PDFs, videos, etc.) as well as locations for service repairs and retail.
Want to learn more about this website build or interested in your own? Contact us.