Project Description
Professional Services Web Design for Building Services Company
Environment Control is a building services company that provides commercial cleaning, grounds maintenance, and restoration to its clients. This company has six decades of experience with teams in 19 states. While it has a national reach, each location is locally-owned which gives clients the power of a national brand and the one-on-one service of a local business.
Project Objectives
Environment Control is in a competitive industry but differentiate itself by focusing on the personal relationships with clients and employees. Our goals for the website included:
Easier access to individual location pages, including making those pages more customizable
Improve overall site performance
Clearly identify services that are available as well as the dependability and quality of service that is provided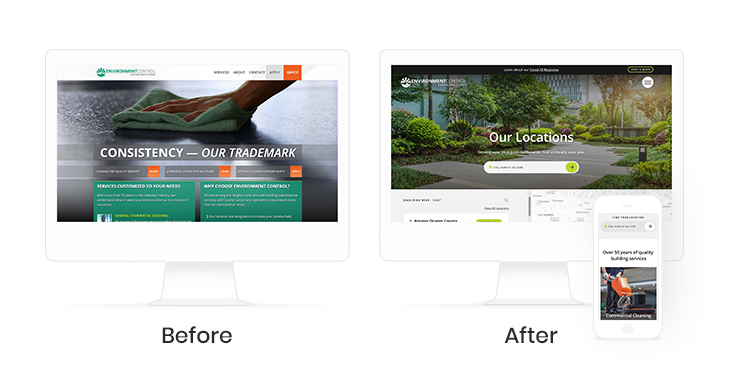 Website Design
For Environment Control, we wanted to keep the design clean, sharp, and professional. The team really liked the feel of Apple's branding and wanted that same minimalist but professional feel for the site.
Website Build
Given the combination of Environment Control's national reach and individualized locations, FusionCMS made the most sense for their website build. It provided a way to feature their overall service, but also gave each location 1-2 pages that they could customize for their local audiences.
Want to learn more about this website build or interested in your own? Contact us.