Project Description
Exquisite Crystals is a small, family-owned crystal company started in 1999 and based in Vancouver, Wash. The company prides itself on high-quality specimens and huge inventory. With more than 20 years of experience in the crystal industry, the Exquisite Crystals team knows what they're talking about and wanted to share that vision on the eCommerce website.
Project Objectives
For this eCommerce website redesign, our main goals included:
Showcasing the unique, one-of-a-kind products and the company's commitment to sustainability
Creating a website that's easy to navigate
Creating a more "exquisite" feel to the site that stays away from too much color as the brand has typically focused on black and white contrast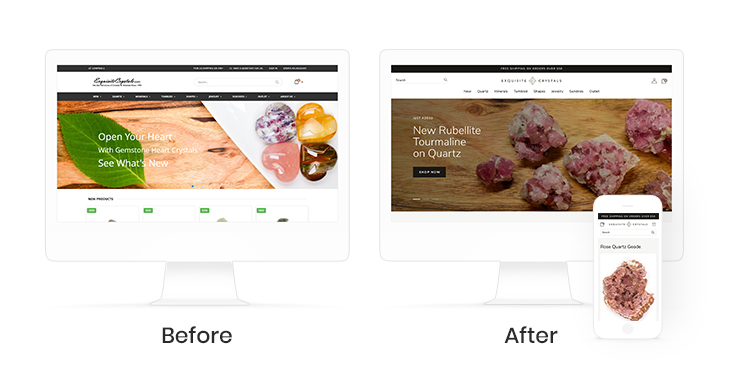 Website Design
Our design team created a brand new logo for Exquisite Crystals. The visual design of the site and the logo was inspired by the idea of what "exquisite" really means. This brand had typically focused on using black and white in their branding, so we stayed away from too much color. After all, the crystals themselves bring quite a lot of beautiful colors to the site.
Website Build
This eCommerce website was developed on FusionCMS for the base pages and BigCommerce for the product pages. On the BigCommerce side of things, it was important that we incorporate a few key apps for marketing and functionality. These apps included: Klaviyo, ShipperHQ, and Sezzle.
Want to learn more about this website build or interested in your own? Contact us.