Project Description
Website Redesign for Seattle Based Eye Clinics
Eye Associates Northwest provides outstanding eye care to individuals across the Pacific Northwest. Their team of ophthalmologists, optometrists, and opticians strive to provide the best care available while offering total eye care needs.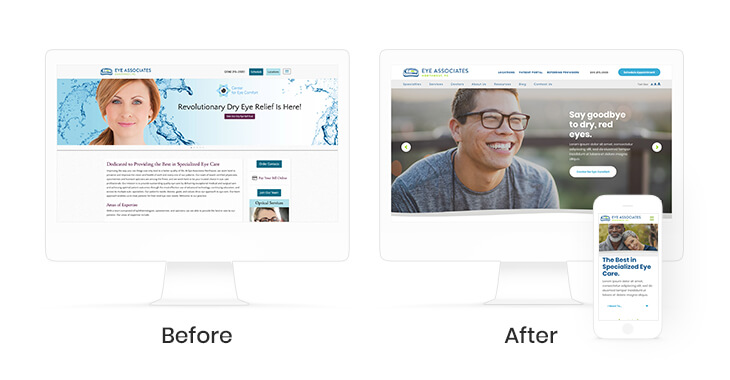 Project Objectives
The team at EANW wanted to create a website that would be a reliable resource for new, current, and future patients. They wanted the design to be one that is easy to navigate, showcases clean and modern design elements that also feels warm and inviting for patients of all ages and backgrounds.
Logo Redesign
We began this project by starting with a logo refresh. The team wanted to update the design to create a fresher look and feel and updated the look and feel of the logo while keeping it familiar to their clients.
Website Design
We designed the new website to feel engaging and warm, while also making sure it was clean, clear, and concise. The team at EANW wanted the website to clearly convey that Eye Associates Northwest is comprehensive, compassionate, knowledgeable, and highly skilled.
Another important factor of the new website was to create more streamlined navigation. The previous site had a singular hamburger menu design, making it difficult to navigate. We worked with the team to create a site hierarchy that made sense for both new and recurring clients.
With audiences visiting the site for a number of different reasons, we wanted the Call-To-Action to provide multiple options. One of the CTA's on the masthead says "I Want To.." and provides a number of options like Scheduling an Appointment, Paying a Bill, and more.
Website Development
The website is developed using FusionCMS, creating an easy to update system that allows them to have a powerful, interconnected website. With locations throughout Seattle and Kirkland, all providing a number of different services, it was important to link their location, service, and doctor pages. Using the CMS, the team at EANW are able to create a location, link the services provided there, and even link the team members that are associated with that location. This is great for SEO, and also makes for a streamlined user experience.
Another cool feature on the website is the creation of multiple font sizes. With their focus being on vision, they wanted to offer a site that could increase the font size so that any potential patients that have vision issues could read the site.
If you're interested in learning more about this project or starting your own, fill out our contact form here.