Project Description
Law Firm Website Redesign for Farr Law Group
As some of the most trusted estate lawyers in the state, the team at Farr Law Group needed a new site to truly represent their company through digital marketing.
Founded in 1976, Farr Law Group attorneys have deep experience in trusts and estates. Their small but mighty team provides a boutique firm with big city capabilities. Their team focuses exclusively on trust and estate planning, trust and estate administration, and litigation, allowing them to provide top-notch legal services to generations of families.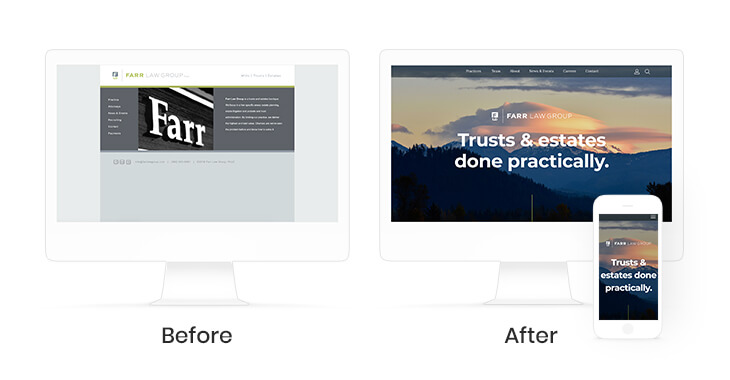 Project Objectives
As an experienced yet young and innovative team, Farr Law Group knew that their previous website wasn't an accurate depiction of their brand. Farr Law competes with some of the largest firms in the area, often exceeding the quality and experience of the traditional "big city" firms, and they wanted to share that through the design and content of their website.
Design Choices
The team at Farr Law Group had a beautiful selection of colors that portrayed both their professionalism as well as worked well to compliment the outdoorsy aesthetic of living in Enumclaw. Throughout the site we grey and clean whites, while accents are done using their signature green to call importance to certain areas.
The goal of the site was to serve as a resource for potential clients as well as referrals when looking at FLG to represent themselves or clients. It was important to note the majority of site visitors would be a qualified audience, so the site presents this information in a straightforward, easy-to-navigate way.
We were able to use custom photographs throughout the site, which did a lot of the work for us in showing off how beautiful the town of Enumclaw is. With photos of both the team, office, and the town of Enumclaw, we could use the photos to provide visual queues throughout the website.
Law Firm Website Development
When it came to developing the site, one of the most important factors for the Farr Law team was to create a site that was easy for them to make updates to. We put the site on FusionCMS so that the team would have complete control of their marketing and website and could easily make changes.
Some of the ongoing changes that the Farr Law team wanted to be able to make included easily adding New & Events updates, which we easily did through the Blog Module. The team also wanted to provide an easy platform to post new jobs when they were looking to hire more paralegals or another partner. With that in mind, they also wanted to be able to easily add new staff members as they were looking to grow their team.
The staff pages also include PDF generation, making it easy for the Farr Law Team
Finally, they wanted to pay homage to the wonderful town they call home: Enumclaw. Throughout the site you see beautiful custom photography done for Farr Law that shows off the town, but they also wanted to have a page with specific call-outs to some of their favorite spots. We created an "Around Enumclaw" page that allows the Farr Law team to share some of their favorite breweries, restaurants and hangouts. They can easily update or add new spots to the page in the CMS as well.