Project Description
eCommerce Website for Marine and Powersports Company
Gonnason Boats is a family-owned and operated company in Kent, WA that has been in operation since 1947. They're enthusiastic about everything marine and powersports and pride themselves on helping customers create fun, memorable experiences.
Project Objectives
For this eCommerce website redesign, our main goals included:
Seamlessly integrating the eCommerce, eCatalog, and professional services sides of the website
Give a clean, darker feel to the website
Allow for a variety of contact forms and inventory displays based on unique needs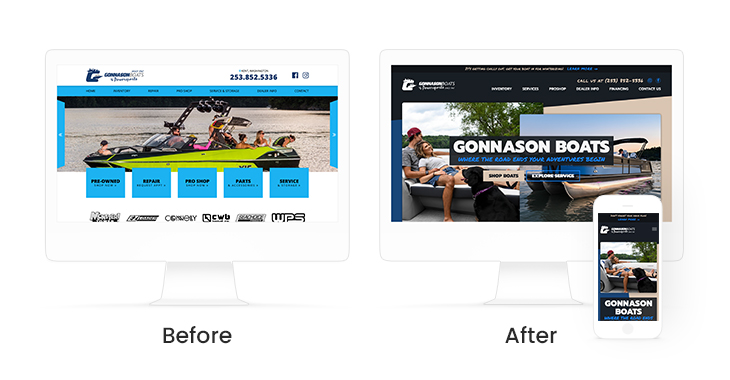 Website Design
The design of this website was all about giving Gonnason Boats a darker, more modern feel. Everything on the site feels cleaner now and is much more user-friendly. The website had to be more than just a normal eCommerce website. It also had to include an eCatalog and highlights for the professional services offered. The design helped keep those parts of the website cohesive so the end user doesn't notice a difference.
Website Build
For the development of this website, it was built on FusionCMS and Shopify. That allowed for the variety of contact forms that this particular client needed and gave some options for how to display the different types of inventory.
Want to learn more about this website build or interested in your own? Contact us.