Highgate Senior Living Website Design

Project Description
Website Design Senior Living Communities Highgate
Highgate Senior Living provides premium care for seniors across the Western U.S. The mission at Highgate Senior Living is to help every resident live each day to their fullest. They've been providing senior living communities for over 25 years and use their experience and expertise to continually better their communities.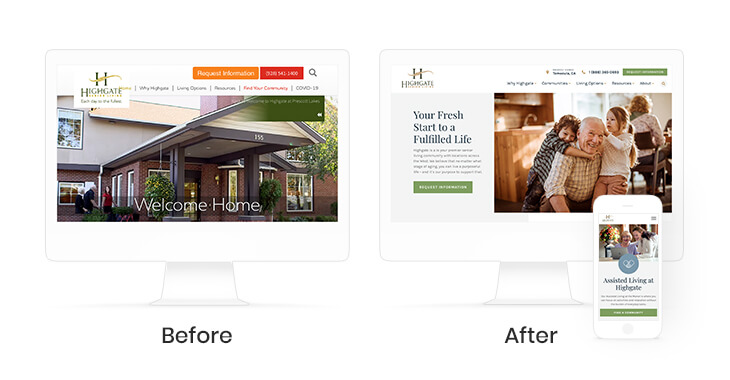 Project Objectives
The goal of the redesign was to improve user experience to provide more qualified contacts. Highgate wanted to emphasize the holistic and "Positive Approach To Care" they have, as well as the individual community pages, floor plans, activities, living options (levels of care), and overall just encourage users to contact Highgate.
Website Design
For Highgate Senior Living, it was important for us to understand the two main audiences that were viewing the website. The primary audience is the adult child, age whose goal in coming to the site is to gather information (pricing, floor plans, care, etc.) on the senior living community. They value experience, budget, and support. With this audience, the actions desired are that they contact Highgate for a tour, and then to use the site as a standard resource for senior living information.
The secondary audience is the planners, people or couples looking for themselves. They are looking for a place to retire or that has the right level of care that they (or their spouse) needs. They're looking for a community atmosphere that feels like home, and will ideally call to schedule a tour or ask questions. They will typically prefer talking over the phone and rarely email. With this in mind, we needed to make sure the site was easy to navigate and had clear calls to action for contact options.
Highgate has a number of benefits and features they wanted to include on their website to help users get a feel for what it's like to live at Highgate. We included icons to highlight features, lifestyle photos, and client testimonials from those living and loving their Highgate Community.
Website Development
With communities all over, it was important to easily navigate the different communities and their specific features and benefits. The site features a searchable community overview page that automatically pulls information updated from the detail page including location, living options, and photos. Each community has it's own landing page that has specific and detailed information about that community. As communities grow and change, the team at Highgate is easily able to make updates to each location through FusionCMS.
The site also features a robust "Resources" section for both types of audiences, building trust with their users right from the start. The CMS allows for Highgate to upload videos, post blogs, and even have downloadable guides that users can save and print.
Have a question about this project or ready to start your own? Contact us here to learn more!