Project Description
Service Website Design for ICHS
ICHS, also known as the International Community Health Services, provides care to thousands of patients every year in 11 locations throughout the Seattle area. It has been a staple of the community for more than four decades.
They advocate for health as a human right and welcome all in need of care regardless of health, immigration status or ability to pay. ICHS lives by the principle of honoring and respecting all. That includes all races and ethnicities, all immigrants and refugees, all languages and cultures, all faiths and beliefs, all genders and sexual orientations, as well as all ages and abilities.
Project Objectives
As a non-profit that services a diverse population, ICHS wanted their website to be readable for all ages and literacy levels.
While their website was previously on Wordpress, they wanted to move to a more professional looking site and focus on the security of their website which connects to healthcare software like MyChart and Epic.
The goals for this site were:
Improve readability for all ages and literacy levels
Trim content so that only the necessary information is provided
Increase security and professionalism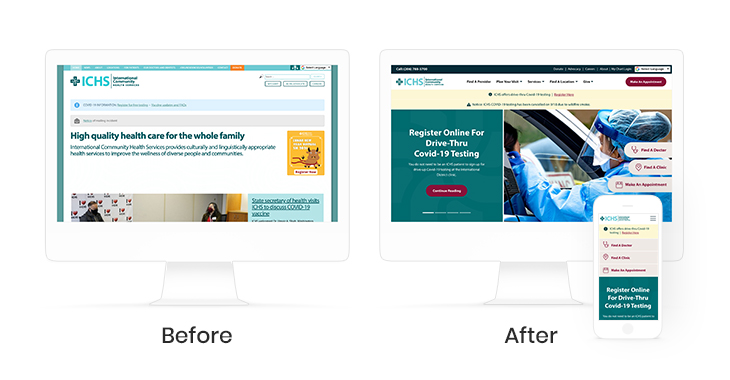 Website Design
For the ICHS website, our design team focused on using visuals to tell the story. That sometimes meant incorporating more icons, trimming back content, or using photographs to convey a meaningful message.
Website Build
The ICHS site was built on FusionCMS which allowed them to use a variety of content that they really needed. The site incorporates integrated and filtered searches by services, locations, and provides as well as more robust blog pages than what was available on their previous website.
Want to learn more about this website build or interested in your own? Contact us.