Project Description
eCommerce Website for low-calorie pasta company
It's Skinny is a low-calorie, low carb noodle company that's aiming to reframe how people think about pasta. Their pasta uses Konjac, a root vegetable that has been enjoyed around the world for centuries.
Project Objectives
For this eCommerce website redesign, our main goals included:
Create a friendly, approachable BigCommerce website design
Design a series of display ads that look similar to the new site
Incorporate spaces for blogs and recipes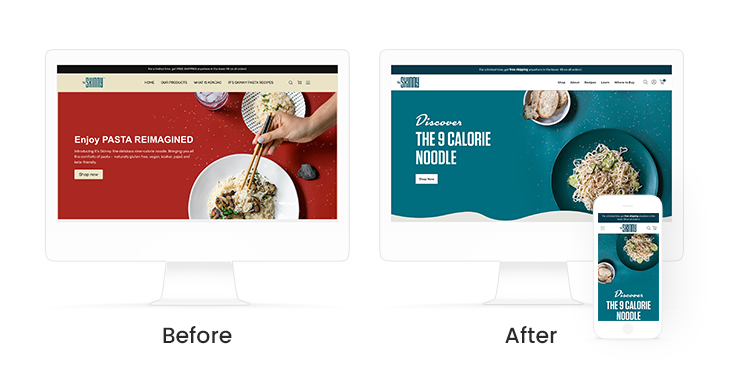 eCommerce Website Design
For this eCommerce website design, we focused on creating a feel that was playful and authentic. We took that feeling into a series of display ads that our team designed as well.
eCommerce Website Build
The website was developed on BigCommerce with FusionCMS integrated for blog posts, recipes, and a dedicated influencer page. This allowed for a fully custom design and BigCommerce gave It's Skinny all the eCommerce functionality they needed. That includes connecting with their email platform Klaviyo.
Want to learn more about this website build or interested in your own? Contact us.