Project Description
Website Redesign for Seattle Flower Shop
Juniper Flowers has been operating since 2003 designing beautiful creations for clients throughout the Seattle area. From corporate deliveries to custom wedding arrangements to residential flower design and delivery, they consistently exceed customer expectations with their creativity and customer service.
Project Objectives
The art created by Juniper Flowers is breathtaking, and their old website did not do lend itself to showing off these beautiful creations. Our goal with the new website design was to first design a site that would show off the beautiful flower creations, but also make it easier for users to shop on the site.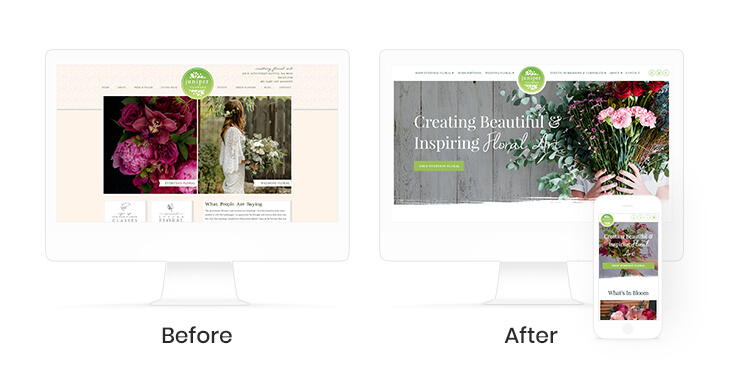 The Design Process
The creations of Juniper Flowers are spectacular on their own, so it was important that we designed a site that would show off beautiful floral art, while incorporating the personality of Juniper Flowers along with it.
We incorporated a script font with a modern serif one to reflect a modern yet creative feel for the brand. The script font is used throughout the site as an accent, adding a fun and youthful touch to the serif font.
Whether it was a bride looking for a florist for her wedding day, a husband hoping to subscribe to monthly flower deliveries for his wife, or someone looking to send flowers to a loved one, we wanted to create intuitive user paths for each of the different users.
eCommerce Development
We decided on a headless commerce approach for Juniper Flowers, using BigCommerce to power the eCommerce portion of the site. BigCommerce has a lot of flexibility for things like product pages - giving us the option to share different size bouquets per price point, add subscription options through an App, and numerous upsell options like cards, chocolates, and more.
One of our favorite parts of the product pages is the incorporation of the app for users to "Send a Hint" with a link to the arrangement of their choice. This idea came up in our very first meeting with the Juniper Flowers team, as we joked about wives wanting to send a hint of a specific flower to their husbands. The app allows you to "Send a Hint," enter an email to send it to, and even add a message.
With the headless option, we were able to put the content in the front seat, with pages like galleries and blogs being important for the Juniper Flowers team. The different galleries allow for users to be able to see the potential of partnering with Juniper Flowers, while the blog is great for SEO and sharing about workshops, bridal shows, and upcoming events that may be an opportunity to purchase flowers.
Ongoing Marketing
The floral market, like most eCommerce businesses, has a seasonality to it, so we are excited to partner with Juniper Flowers to work on some ongoing marketing. We are thrilled to work with the team and help them build their business and optimize their marketing tactics.