Project Description
eCommerce Website Design and Development for PNW-Based Home Furnishings Company
Project Background: Designing and Developing a Pair of Online Stores for a Seattle Local Favorite
Kasala, a home furnishings company based out of the Pacific Northwest, is brand new to the world of ecommerce. We were brought on board to design and develop online stores for both their main brand as well as their Outlet. In essence, we replicated each main site design and development item mentioned below for the Outlet, making some tweaks to the layout, font selection, and color story as needed. We also created spaces for Outlet-specific content, including its own dedicated blog and locations areas.
One of Kasala's primary directives for our team when we first sat down with them was to not only design and develop their online stores, but to also help them showcase their brick-and-mortar locations—after all, they may have taken some of their operations digital but they continue to take pride in serving customers as well offline as they do online.
We were happy to accommodate this aim. By pairing the industry-leading ecommerce functionality of BigCommerce with the flexibility of the industrial-grade (yet friendly) FusionCMS content management system we were able to build the Kasala team a website that puts their products front and center while also making it easy for visitors to learn more about how to check out the goods in person.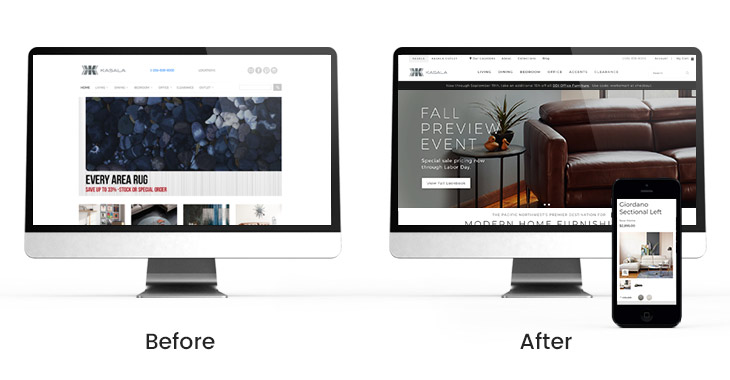 Building Custom Pages and Global Features on FusionCMS, the Best Website Content Management System on the Market
FusionCMS hosts Kasala's locations pages which are informative, cleanly designed, and feature stylized maps with "Get Directions" buttons that, on mobile, open into the user's default maps application. This UX-friendly feature removes any barriers in finding Kasala stores, regardless of whether the site's visitors are at home or on the go.
In a like manner, we built "About," "Collections," and "Blog" pages for Kasala on FusionCMS. Each of these feature custom design work and functionality, including lazy loading (for faster load times), big, bold imagery and bright call-to-action blocks that encourage users to engage further with the site.
The Kasala main navigation header is a sticky "megamenu"; it's broken down by category with each drop-down menu featuring an example product or living space thumbnail image. On mobile, this collapses into a user-friendly hamburger menu. A link off to the Outlet is featured in a predictable space in the top left of the page (making it clear that there are two entities under the same brand) right next to a product search bar.
Product Migration to BigCommerce and eCommerce Store Development
One of the biggest challenges our teams anticipated during this project was how to migrate Kasala's massive database of product info over from their old website. The Kasala team learned the import process quickly and were able to harness BigCommerce's import tools to successfully upload most of their information; from there, they took advantage of the platform's user-friendly product management interface to tweak as needed. We worked with the Kasala team to address any gaps in the process, leveraging our Elite-tier partnership with BigCommerce to escalate Kasala's concerns with the BigCommerce support team as needed.
The live store pages employ a complex structural hierarchy and feature both top-level and sub-level categories to organize all product offerings. We custom designed a masthead and thumbnail grid layout for the top-level categories, leaving the Kasala team room to speak about each area while keeping the rest of the store pages clean, modern, and inherently searchable.
The sub-level category pages can be filtered down by not only color and size, but by brand as well, making it easy for users to find complementary pieces to fit every space.
We also worked with the Kasala team and some of our development partners to customize both the BigCommerce checkout pages and the communication emails sent by BigCommerce throughout the customer journey. Each are now on brand and feature Kasala's logo, primary colors, and unique font selections.
Project Results and Successes
The attractive design and stronger architectural design of Kasala's new layout versus the old has netted their team improved site KPIs across the board (from bounce rates to conversion rates). Within two weeks of launch, the Kasala team has already seen consistent and substantial sales. To be sure, much of this credit goes to the Kasala marketing team; they've been nurturing strong relationships with their PNW-based customers over the 30+ years they've been in business. To our credit, the new Kasala ecommerce site makes it easy for these customers to find Kasala online and engage with their company in a brand new—and very user experience-friendly—way.
Industry:
Home Furnishings