Louisiana Crawfish Company

Project Description
eCommerce Marketplace Redesign for Live Crawfish Supplier
Louisiana Crawfish Company has been a dream client to work with. The company is family owned and operated and first started in 1985. What started as a humble farm and shipping facility in Natchitoches, has grown to three different locations throughout Louisiana.
Numerous TV shows and publications have featured the company over the years as well.
Project Objectives
For this eCommerce marketplace redesign, we had a few key goals:
Get the website design a brighter, friendlier feel
Highlight quality and family-owned messaging
Set up the shipping logistics and rules so the orders can easily be processed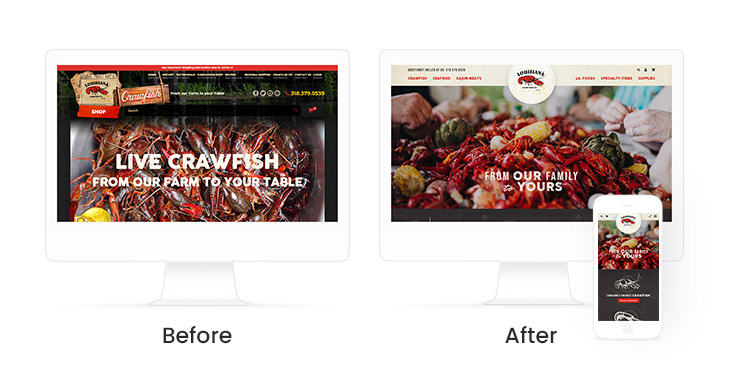 Website Design
Louisiana Crawfish Company prides itself on being an honest and approachable company. The website design had to reflect that friendliness and openness to prospective clients. The content on the site also ensured that the family-owned and high-quality messaging was front and center.
Website Build
The eCommerce marketplace was designed on FusionCMS and BigCommerce. We also incorporated ShipperHQ and ShipStation. This allowed for setting up the shipping logistics and rules that the Louisiana Crawfish Company needed.
We also installed Smile.io to track the rewards program and InStockNotify to let the company know when items are out of stock. All these different tools work together seamlessly to ensure that the company's site functions well for visitors and for the company's employees.
Want to learn more about this website build or interested in your own? Contact us.