Midwest Tungsten Services

Project Description
eCommerce Website for Product Manufacturer and Supplier
Since 1958, Midwest Tungsten Service has been passionate about supplying the best possible products to its customers. Based out of Illinois, the MTS team manufactures materials for vacuum evaporation as well as electron beam gun parts.
With such an extensive history in the industry, MTS has one of the largest libraries on tungsten in existence.
Project Objectives
For this eCommerce and professional services website, our main goals included:
Create more consistency between the informational and eCommerce parts of the site
Add more imagery and contrast, so the site is visually appealing
Integrate apps and custom calculators for the MTS team's unique needs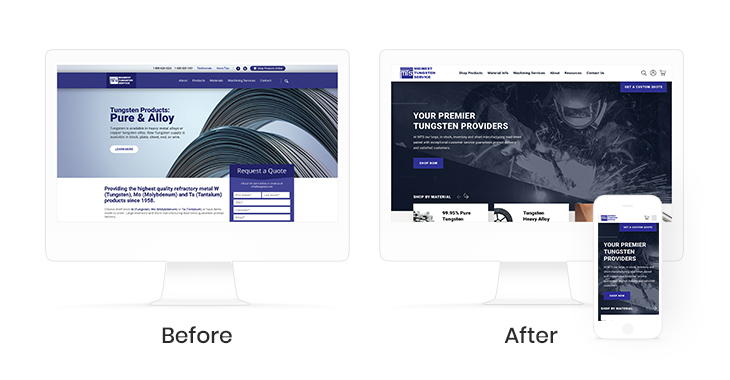 Website Design
For this eCommerce website redesign, it was important that the site was more visually appealing and cohesive. We incorporated more imagery on the site and added contrast between dark and light spaces to make the content pop. Our designers also created new navigation and contact form icons for this site.
Website Build
The site was developed on FusionCMS and BigCommerce. This allowed the client to seamlessly combine the informational side of their site with the BigCommerce side so visitors could navigate both without roadblocks. We even developed a custom search function so that the two sides of the site could be found in one place.
We incorporated apps like Shopper Approved, Jotform, and Hubspot. Our team also created custom calculators for welding, weight, and dimension.
Want to learn more about this website build or interested in your own? Contact us.