Project Description
Wenatchee and Seattle Law Firm Website Design
Ogden Murphy Wallace has been serving clients in the PNW for over 100 years, specializing in a variety of industries and legal areas. OMG addresses each client's needs on a case-by-case basis, using a team approach to draw on the specialized knowledge of the attorneys best qualified to meet and exceed their expectations. The firm serves the unique needs of clients all across Washington State, with offices in both Seattle and Wenatchee.
Project Objectives
The main goal of this redesign was to create an aesthetically pleasing site that reflects who OMW is and what the company provides while outlining information in an easy-to-find, intuitive way. The team at OMW wanted the site to be modernized to visually appeal to audiences throughout the Seattle area.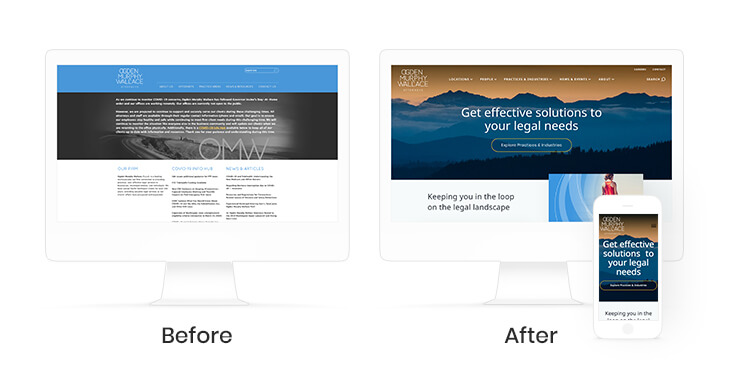 Design Notes
The team at Ogden Murphy Wallace wanted the website to present them as a law firm that is both trustworthy and professional. We used their brand colors of blue and yellow throughout the site, but kept a clean white and grey overall to keep it professional.
To build trust, we wanted to put relevant content immediately on the homepage including news, announcements, and won cases. Right below the masthead, the homepage design features a few headlines from their well-known blog. This shows that the team at OMW is up to date on happenings in the legal world and is ready to share with their clients. Further down, we created several jumping-off points, including a service listings slider, a section that shows off a few of the attorneys and team members at OMW, and links to their Seattle and Wenatchee office locations.
We wanted to use the site to serve as a resource for potential clients as well as referrals when looking at OMW to represent themselves or clients they'll be referring. The site presents their practice information in a straightforward, easy-to-navigate way and positions OMW as leaders in the industry through thought leadership and a wide range of services.
Website Development
The site was built on FusionCMS, allow for the team to have a custom law firm website design, as well as a powerful backend. Fusion gave us the flexibility to create a fully custom design with collections suited to their specific needs.
They maintain a well-respected blog as well, so Fusion gives them the ability to post as frequently as they'd like, and tag certain attorneys and practice areas. This is great for both user experience as well as search engine optimization.