Project Description
eCommerce Upgrade and Website Redesign for Popular Children's Footwear Brand
Project Goals and Upgrade to BigCommerce
See Kai Run is a massively successful children's footwear company. Having launched just over a decade ago, SKR seems to have skipped the crawling stage and gone straight from walking to running on full tilt.
A long-time client of ours, we recently upgraded the See Kai Run ecommerce platform to BigCommerce. Known for its security and scalability, BigCommerce was a natural fit for this exploding brand, making it easy for them to import and manage each product as the seasons shift.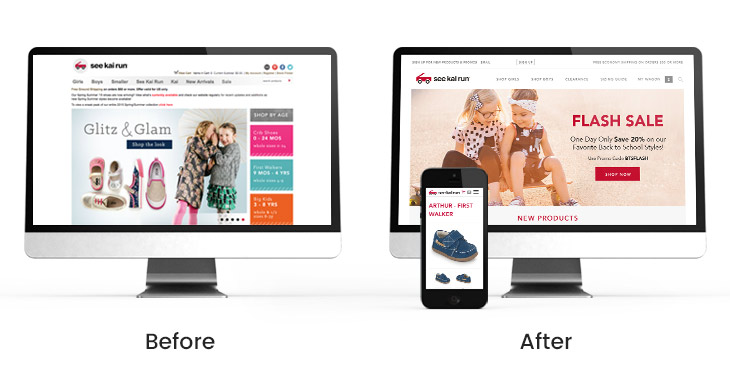 Design Inspiration, User Experience Features, and Development Successes
Our BigCommerce website design and build features a pared-down layout that lets the products do the talking. During the development of this site, we made substantial use of some of BigCommerce's signature features, including "Quick View" product options and extensive filtering and sort functionality on category overview pages. Elements like these smooth the user journey and make it easy to find the exact size, style, and color of shoe they're hunting for.
Design flourishes around the site include elegant hover effects to help grab the eye as well as bright red calls to action to help drive conversions.
Add-on functionality through applications like ShipperHQ help lessen the SKR team's administrative burden and open the door for SKR to create and manage custom shipping zones and adjust carrier information. BigCommerce also simplifies the newsletter integration and promotion adjustment processes, making it easy for the SKR team to manage their email sign ups and promotion banners ubiquitous across all pages.
Project Achievements and Results
Moving SKR to BigCommerce gave them the functionality they needed to get to the next level—and get to the next level they did! Since the migration in January 2018, they've experienced incredible growth. Revenue, conversion rates, and AOV have all increased substantially, and a custom abandoned cart recovery strategy has buttressed an increase in KPIs worth tens of thousands of dollars.
With thousands of visitors a day and a conversion rate double industry average, this website continues to act as a shining example of the effectiveness of simplicity in the ecommerce sphere. With design features centered on the products and user experience at the heart of the development work, See Kai Run is all but guaranteed to continue its upward trajectory toward kids footwear dominance.
Location:
Woodinville, WA