Project Description
eCommerce Website Design for Seattle Sports Apparel Company
Project Background and Decision to Move Online Store to BigCommerce
SODO Apparel is a premium men's fitness wear company based out of Seattle, WA. They take pride in their unique fabrics that are blended for comfort, style, and performance.
SODO has been a client of efelle creative for years; our teams decided to partner up again in 2017 to reboot SODO's eCommerce website with a brand new design. In addition, we upgraded SODO's eCommerce platform to BigCommerce to provide the SODO team with a powerful, scalable engine to drive their online store, improve their insight into customer behavior, and give them access to powerful conversion tools and abandoned cart recovery features.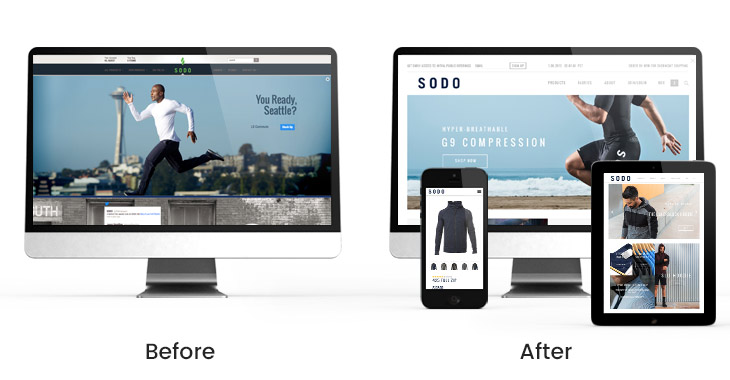 Custom Design and Development Work
As Elite-tier partners with BigCommerce, our team is deeply experienced in creating custom eCommerce store pages that blend seamlessly with all other content on the site. We built non-store pages on our own proprietary content management system, FusionCMS, giving us the flexibility to style in design features and flourishes as well as functionality that would be impossible to add using a templated design alone.
One such page is SODO's "Fabrics" area; for this we designed and developed a full-length informational page featuring large product imagery, clear product data boldly displayed, call-to-action buttons linking off to store items, and access to relevant videos (which open in a lightbox and are hosted on YouTube to ensure fast-load times).
Similarly, we built out a page on Fusion for SODO to share information about where their products can be located in person—the "Locations" page features a stylized map and search bar that makes it easy for users to physically connect with the brand and experience the quality and comfort of the materials firsthand.
On the BigCommerce side, we created store pages that offer the best in user experience. Product filter and sort options are available on all category overview pages as is the option to toggle between a list view and thumbnail view of the products. Product detail pages feature image zooms, availability info (stylized as icons), and photo swaps on color swatch selection.
The BigCommerce backend provides some of the most secure checkout functionality in the business, while also making it easy for SODO to update products, engage in email marketing efforts, analyze store data, and more.
Project Launch and Successes
This store launched as the client was getting their products onto Amazon and into retail locations (like Nordstroms and REI). Their stats are improving across the board, with substantial increases in the MTD comparison, revenue, customer total, and AOV (thanks in large part to awesome BigCommerce features like showing products other customers have purchased). Additionally, SODO's new custom abandoned cart recovery sequence is automatically generating revenue from lost orders, currently at a rate of over 12%!
These solid and consistent improvements in numbers showcase not only the quality of the brand, but the quality of their marketing tools, as well.