Project Description
eCommerce Web Design for Allergen-Free Vitamin Company
Vitamin Friends makes vitamins for adults and kids that are free from the top 8 allergens. The company was originally started by a group of parents who wanted to find a safe way to get their kids all the essential nutrients without having to worry about allergic reactions. They pride themselves on being a trustworthy brand for parents and kids alike.
Project Objectives
For this redesign, they wanted things to feel fun, modern, clean and family friendly. Our main goals were to:
Bring forward the company's commitment to the cause of nutrition and safety
Incorporate fun, playful elements into the design while still giving a modern, clean feel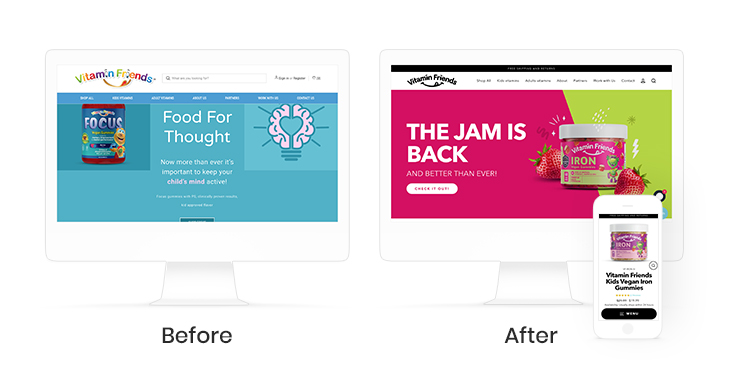 Website Design
For this website, our design team made a custom allergy-free icon and a masthead image template with doodle icons.
Website Build
The site was built on Shopify and integrated with Recharge subscription app, Klaviyo email management, wholesale app, and Facebook Pixel marketing. This was a transition for Vitamin Friends. The company was previously on a different platform but wanted the extensive built-ins offered by Shopify.
Want to learn more about this website build or interested in your own? Contact us.