Project Description
Logo and Label Design Plus eCommerce Website Design and Development for Redmond-Based Natural Health and Beauty Brand
Viva Doria's product line spans the health, beauty, and personal care sectors, offering a variety of natural-based products ranging from aromatherapy oils to salts and extracts to toothpastes and more. Dedicated to creating quality products, offering superior customer care, and following environmentally friendly sourcing and manufacturing practices, Viva Doria squares its business model around three core principles: honesty, transparency, and trust.
Project Objectives
When we first sat down with the Viva Doria team, one of their goals was to have their brand and product line seen as high-end, high-quality, and trustworthy. Similarly, they wanted to ensure that the "natural" element of what they do continued to shine through in their branding as well as in the different content areas on their website.
Through consultation with our business development and design teams, they opted for logo and label design services in addition to website design and development services, with the ultimate objective of having our team produce work that would both perfectly complement their three core principles and pump up the personality of their major brand assets.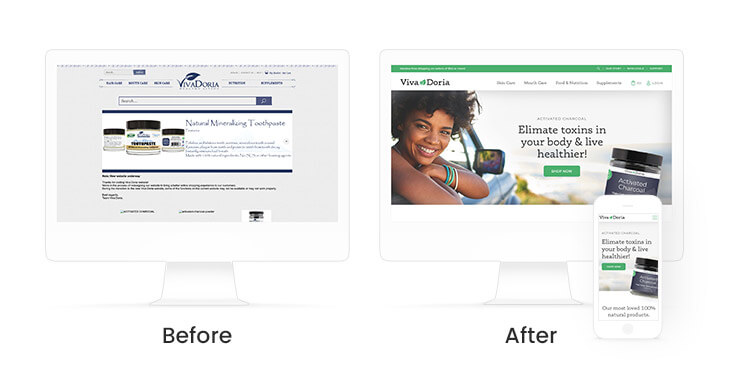 Website Design and Development Efforts
Our team initiated the design phase of this project by revamping the company logo. We cleaned up the primary font, added a pop of green, and centered the simplified leaf icon, all of which helps to add visual symmetry, make the logo more impactful, and improve the odds of establishing brand recognition with users.
We then consulted with the Viva Doria team on a label redesign. While proud of their company heritage, they wanted to move away from having a "homemade" packaging feel, knowing that it didn't full represent the quality of their product line. Our label design work is varied and clean, bold and accessible—and still leaves the Viva Doria team plenty of room to highlight the qualities that make their products so unique.
Our website design work shares a number of similarities with the logo and label work, particularly when it comes to its clean lines and overall bright tone. The homepage design, in particular, makes great use of white space to help improve the user's experience, steer the narrative, and simplify navigation; it's at once professional and inviting, and it features the logo's green throughout to signify major calls to action and highlight specific content areas. The logo's leaf motif is also employed generously across the homepage, adding visual interest and, again, supporting the goal of increasing brand recognition.
On the development side, this project was built exclusively on BigCommerce. As certified experts in BigCommerce front-end development and Elite-Tier BigCommerce Partners, our team at efelle leveraged our knowledge and experience using the platform to transform our custom design work into a live eCommerce website that includes, but is not limited to, the following:
A homepage rich in calls to action
An about page template (leveraged here for Viva Doria's "Our Story" page, Privacy Policy, FAQs page, and more)
Product category pages featuring sophisticated filtering, view, and sorting options
Product detail pages with areas for expanded descriptions, product options, galleries, reviews, shipping information, links to related products, and more
A blog area for the Viva Doria team to offer recipes, expand on the benefits of their products, and more
Custom contact forms
Project Type:
eCommerce Website; Logo and Print Design