Project Description
Website Design for Washington Non-Profit WSIPC
WSIPC, Washington School Information Processing Cooperative, is a non-profit cooperative that provides school management software to public, private, and charter K-12 schools. WSIPC was founded in 1967 by ten school districts with a common goal—to find an affordable solution for software development, hardware, and technological support that would improve how schools function overall and increase student success.
Project Objectives
We had previously worked with WSIPC to create their logo and old website. As we continued our partnership with them, we wanted to optimize the sites to update to both UX best practices as well as update the site's security as well.
We also decided to update the site navigation to make it more intuitive for users using filtering and categorization.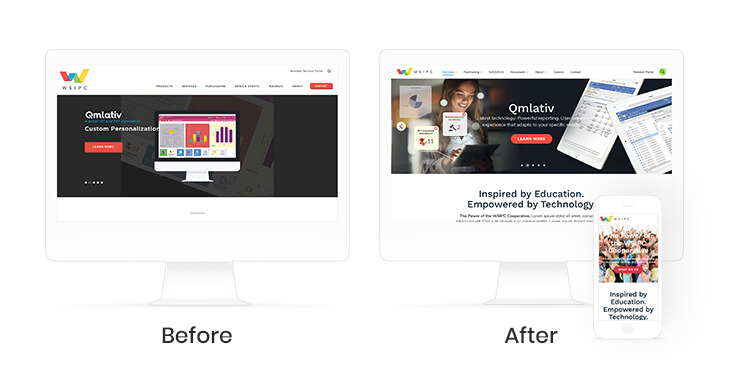 Design Notes
As WSIPC grew, they ended up outgrowing some of the elements of their old site. With the new site, we wanted to address these portions of the site and build them in a manner that would be more flexible in the future.
The amount of content necessary to be on the site was larger than a lot of other sites, but we knew there was a way to make it better understood by users. We made some pretty hefty user experience and filtering changes to the bid contract area on the site to help current and potential vendors better find RFPs.
Throughout the site, we wanted to provide a refreshed look and feel, included updated icons, as well as provide updated mastheads throughout the site.
WASWUG is the biannual conference held by WSIPC that has a sister website to WSIPC. This site was going to follow similar design updates, but also remain flexible as the conference themes change each year.
Website Development
The site was developed onto the newest level of FusionCMS, V5. This newest version provides updates to both ease of use on the backend as well as higher levels of security. With updated navigation and site structure, we were able to make it easy for updates to be made in the backend of the site.
Especially on the WASWUG site which updates pretty heavily biannually, it'll be easy for the team at WSIPC to make changes to images, texts, and more throughout the site to reflect the latest conference.
Project Type:
eService, eCatalog