Project Description
eCommerce Website Design for Forklift & Material Handling Company
Since 1951, Atlas Toyota has been supplying Northern Illinois, Northwest Indiana and, more recently, Northwest Wisconsin and the state of Minnesota with the largest inventory of new forklifts and lift trucks in the nation.
Project Objectives
For this eCommerce website redesign, our main goals included:
Create a cohesive look across the different sites and assets associated with the parent brand
Give an approachable and knowledgeable feel to the site
Add in extra features for customers to find what they are looking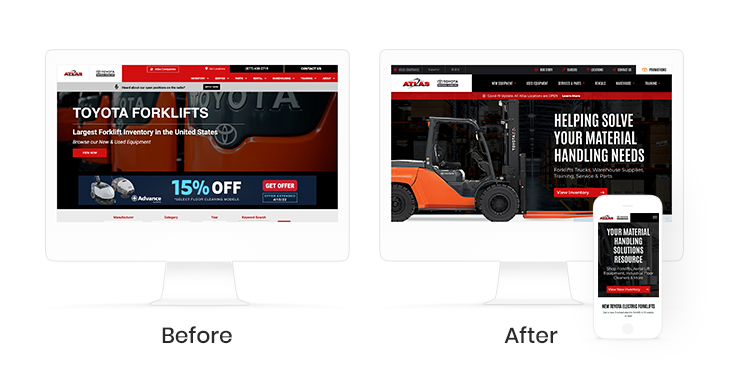 Website Design
For the design of this eCommerce website, it was particularly important to make sure the look of the site could carry across to the other sites. We're currently working on updating Atlas Bobcat, Atlas Lift, and Atlas Dealer to all give the same look and feel while still being unique entities.
Website Build
For the development of this eCommerce website, we used BigCommerce in conjunction with FusionCMS, a content management system. BigCommerce gave us the option to create a product quiz that customers could use to determine what product they needed. With FusionCMS, we were able to develop custom informational pages that blend seamlessly with BigCommerce's product catalog.
Want to learn more about this website build or interested in your own? Contact us.