Project Description
Website Design for Seattle Area Homebuilders
Brookstone Homes started in 2008 in the middle of a recession that would change the world of homebuilding. Because of that unique start, they've learned to innovate and do things a little differently than the traditional homebuilding model.
Brookstone Homes prides itself on going above and beyond for their customers. They're happy to customize and work with home buyers to create the house of their dreams.
Project Objectives
For this website redesign, our main goals included:
Create a clean, easy to navigate website for end users
Convey a friendly, straightforward tone throughout the site
Redesign the logo to something modern, but long-lasting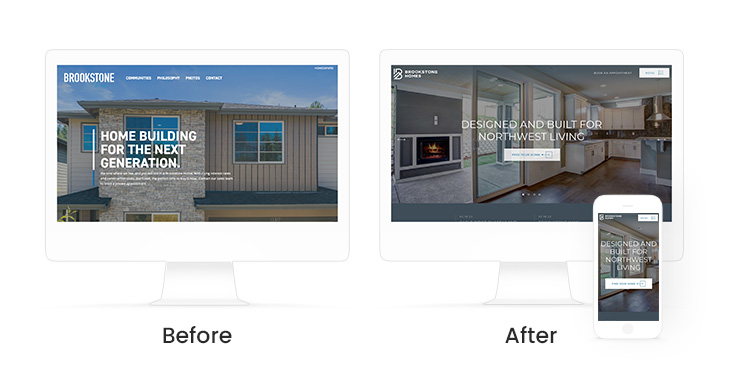 AEC Website Design
For the design of this website, our team wanted to ensure that the beautiful homes were front and center. There's also a balance between the galleries and the information that home buyers need and want to hear about. Our team made sure that both were easy to find.
Our graphic design team also worked on redesigning the logo to something that was more modern and would last Brookstone Homes for many years to come.
AEC Website Build
The website was developed on FusionCMS. This helped show off the different communities and homes including an interactive map of the homes available.. It also allowed for an area where homeowners could log in to submit warranty requests or contact their customer service department.
Want to learn more about this website build or interested in your own? Contact us.