B2B Web Design for Eterra Attachments

Project Description
Website for B2B Company Based in Bellingham, Washington
Eterra is a company born in a garage in Bellingham, Washington. The team at Eterra is a group of operators, innovators and engineers who operate a company that builds reliable and beautiful attachments. They enjoy pushing the boundaries, not cutting costs and quality and they strive to provide their customers with attachments that will help them get the job done – the right way.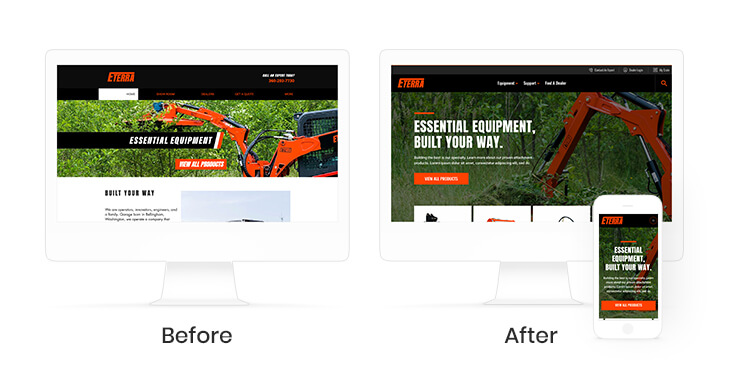 Project Objectives
The goal of the website redesign easy to create a site that allowed Eterra to develop leads and nurture relationships with dealers with an intuitive and easy to use portal that keeps partners coming back to Eterra.
They also wanted to showcase their media including videos, images, diagrams, and downloadable content in a clear and visually appealing way on content-rich and informative product pages.
B2B eCommerce Design
Education is an important part of the business for Eterra, so we wanted to present in-depth information about their products in a clean, functional way that is easy to use for a broad range of users.
The brand colors include black, orange, and white, which we pulled into the new design while keeping it clean and professional. The orange adds a bit of personality and is used as an accent, as well as on the calls to action to get the users attention.
Website Development on BigCommerce
We built this site using BigCommerce, giving the team at Eterra a great platform to work on and grow their business.
Being a B2B business, it was important to have a number of different categories and filters throughout the products so that users could find the exact attachment they needed. BigCommerce made it easy with their native functionality to allow for the high-level categorization.
This site also uses the wholesale functionality native to BigCommerce, making it easy to guard product prices behind a login and set prices based on customer groups.