Project Description
Website Design for International Fruit Pop Franchise House of Pops
Established in 2018 by the dynamic husband and wife duo, Mazen and Marcela, House of Pops was created to provide a healthier option for cooling off during scorching summer days. House of Pops specializes in 100% plant-based fruit pops that not only benefit your well-being but also prioritize the environment through the use of eco-friendly, plastic-free packaging.
Project Objectives
For this website redesign, our main goals included:
Rebranding by using refreshing colors and fonts
Highlighting the use of healthy, real fruit
Engaging users by making the site more interactive and playful
Website Design
For the design of this website, our design team worked to refresh their whole look by bringing in a bright, fun, and refreshing aesthetic. The site features whimsical icons, accents, and scrolling animations that capture the viewer's attention in an enticing way.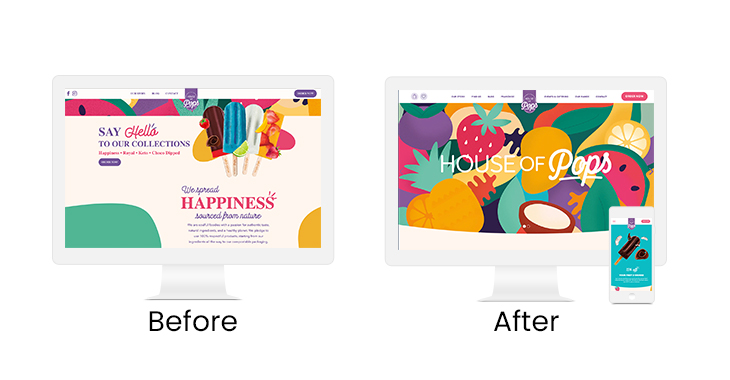 Website Build
This website was developed on Shopify which gave our team the flexibility to incorporate various fun elements while seamlessly connecting with Klaviyo for email marketing and HubSpot for customer relationship management (CRM).
Want to learn more about this website build or interested in your own? Contact us.