Kain's Fishing Adventures

Project Description
Website Design for Alaskan Fishing Adventure Company
Kain's Fishing Adventures is based in Sitka, Alaska and provides vacation and travel experiences for those interested in Alaskan saltwater fishing adventures.
Greg Kain, owner of Kain's Fishing Adventures, has decades of experience leading saltwater fishing adventures. The company provides a full experience: every day of a trip includes fishing, prepared meals at the Lodge, and a crew that will pack and prepare the catches to be shipped home.
Project Objectives
For this professional services website redesign, our main goals included:
Emphasizing the importance of adventure, especially by showcasing photos
Create a clean, crisp design with rounded edges
Focus on creating a site that would appeal to an older demographic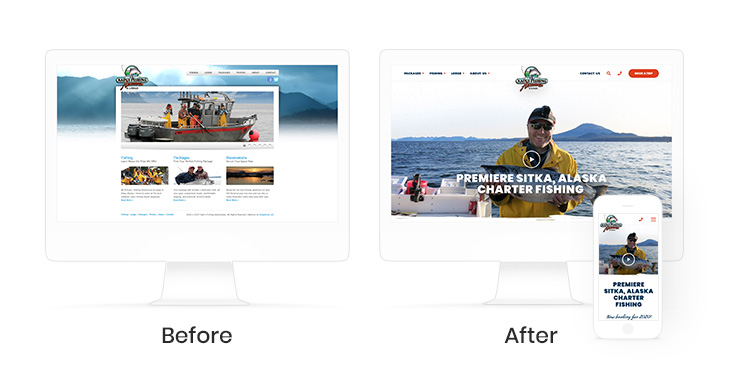 For this website redesign, we designed a site that was clean and crisp but also incorporated rounded edges that were more accessible. The site's usability was also important as we were targeting an older demographic.
This new website was developed on FusionCMS. This allowed Kain's Fishing Adventures to maintain their active blog, organize images and videos in galleries, and manage prospects submitted through the form on the site.
Kain's Fishing Adventures also worked with one of our copywriters to create a cohesive sense of storytelling throughout the site.
Want to learn more about this website build or interested in your own? Contact us.