Project Description
eCommerce Web Design for CBD Business
Laurelcrest is striving to become a leading supplier of CBD products, and With over 30 collective years in the hemp and CBD business, they help their clients bring their brand from concept through production, to packaged product. Using their experience in Europe, they're excited to help more American countries find ways to grow their CBD businesses.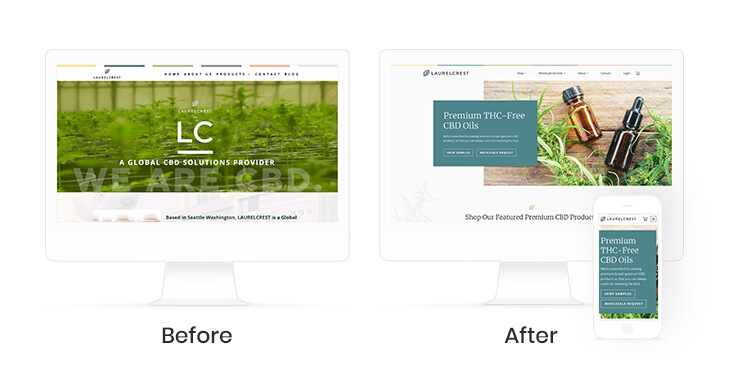 Project Objectives
Working primarily as wholesalers, the Laurelcrest team wanted to have a robust wholesale platform, allowing them to streamline samples and create easy-to-do reorders, as well as expand their B2C line.
eCommerce Web Design
One of the main goals of the site design was to maintain its current branding but to update the site with a more friendly and organic feel. They wanted to stray away from the typical "green" for CBD but also wanted to avoid portraying a cold clinical feel. Throughout the website design, we used their beautifully branded assets and created icons, CTAs, and more that matched their brand. We also used real-life photos of hemp as well as their products to bring a warmer feel to the site.
Throughout the site, we also created diagrams and infographics that allow for important clinical information to be presented in an easy to understand, yet professional way.
B2B Website
The cornerstone of Laurelcrest's business is in wholesale, so it was necessary that the site had robust wholesale functionality options. We decided to build the site on BigCommerce, giving us some robust native functionality for their white-label wholesale side, which also allows for them still sell direct-to-consumer products.
Using BigCommerce allows for robust product detail pages that give the Laurelcrest team the ability to link to their certificates, batch records for each product, and spec sheets. These are important in their line of business to build trust with their customers and share the necessary accreditations.
We're excited to see Laurelcrest continue to grow their business, especially on a platform like BigCommerce that will scale with them.