Project Description
Website Redesign for Seattle Law Firm
Company Overview
The team McCullough Hill Leary represent private and public entities in development projects and business transactions throughout the state of Washington. They have a long and rich history of serving companies all over the Pacific Northwest. Serving big names like the Starbucks Headquarters and Pike Place Fish Market, we wanted to show off the depth and breadth of the experience at MHL while still remaining approachable to new clients.
Project Objectives
With the new website, the MHL team wanted to showcase their 30+ years of experience representing private and public entities in development projects throughout Washington.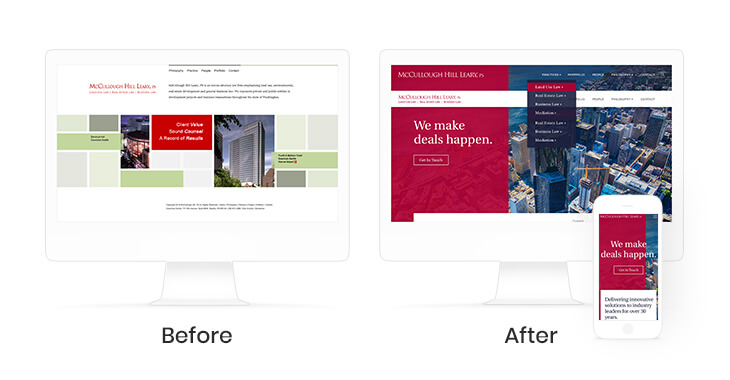 Design Notes
In terms of design, we were able to conduct a light refresh of their brand's web image. This included removal of old color palette in an effort for a simple and sleek brand entity. Our design team warmed up their maroon logo color to a nice cranberry and kept web colors to white, pops of cranberry and simple lines.
We also created the site navigation and portfolio pages to showcase the experience and value of the attorneys and the firm, in a tasteful and informative way. They have an expansive portfolio in real estate and development covered within Washington, which allowed us to create robust and informative portfolio pages. Throughout the site we also leverage imagery to speak for their breadth of experience with elements of movement to keep users engaged but not overwhelmed.
Law Firm Website Development
With a busy team of lawyers over at MHL, we wanted to build the site to easily updated but also built on strong pillars of search engine optimization. With those goals in mind, we decided to build the site on FusionCMS.
With some big names like the Seattle Great Wheel and Space Needle, we wanted to create featured projects, along with the portfolio gallery that can be organized by project type. This allows users to sort based on area served as well as project type.