Project Description
Website Design for Seattle Based Railroad Tech Company
Meteorcomm is the rail industry's trusted choice for reliable and interoperable wireless communications and train control solutions. They develop and provide train control products along with radio, messaging, and systems management solutions.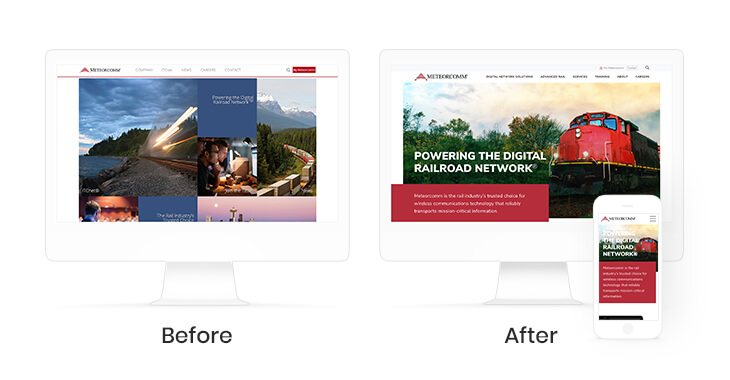 Project Objectives
The goal of this website redesign was to modernize the look and feel, as well as make their products easy to understand quickly on the website.
With complex technology, it was crucial that the design was the perfect mix of providing the necessary information, while still being engaging for the user on a website.
Website Design Notes
The design of the site was made to give a clean and modern feel while also keeping it slightly industrial and true to the brand. Throughout the website, we used large and engaging imagery paired with stylized iconography to help tell the story of the product technology.
With complex technology, it was important to have dedicated pages for each of the services. The pages are designed out to break down the technology further and provide further information and calls to action regarding the project. On these pages, users are able to view the features, learn how the technology works, and even download brochures for specific products.
Website Development
The website was built using the WordPress platform, allowing the team at MeteorComm to update internally with their IT team. We used Elementor Page Builder, allowing users to drag and drop sections to other pages, cut and paste them, and makes it super super super easy to mix and match templates.