Project Description
Website Redesign for Ballard's Scandinavian Cultural Museum
The National Nordic Museum is a must-see tourist attraction if you're in the Ballard area. It's the only institution of its size and scale in the United States to present the history and culture of the entire Nordic region (Denmark, Finland, Iceland, Norway, Sweden, the regions of the Faroe Islands, Greenland, and Åland, and the cultural region of Sápmi) and the legacy of Nordic immigrants to the United States.
It's perfectly situated in the city of Ballard, which has a rich maritime history with Scandinavian roots.
Project Objectives
For this website redesign, our main goals included:
Give the site an updated, modern look that matches the aesthetic of the museum's new building
Refresh the brand style guide
Update the MailChimp newsletter to match the new style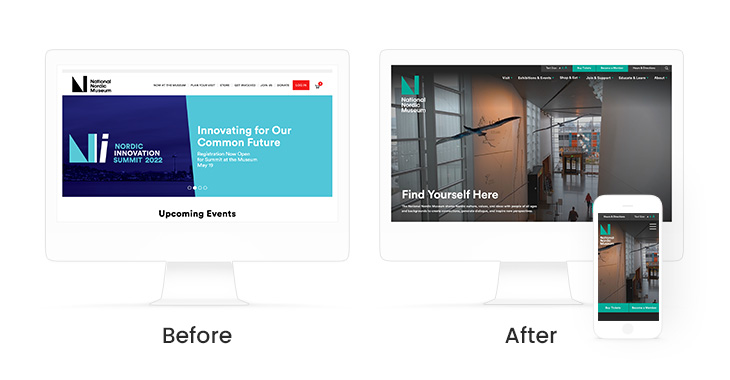 Website Design
For this redesign, it was important that the new site reflected the aesthetic of the museum. With a new building, built in 2018, we made sure the style of the site felt modern and clean. This extended to the updated brand style guide and the new MailChimp newsletter template.
Website Build
This site was developed on FusionCMS and Shopify for the Museum Store. Fusion was a great option for this client because it allows them to have lots of customized templates and areas without requiring extensive code adjustments. It also allowed for extra security for team members to have access for updates without worrying about accidental changes.
Want to learn more about this website build or interested in your own? Contact us.