Project Description
eCommerce Website Design for Roller Skate Nation
Roller Skate Nation sells new and used roller skates with a retro vibe infused. This client was fun for our design team since they got to incorporate that nostalgia into the site. Roller Skate Nation also focuses on educating people on how to pick the right skates for their needs. They even let you make custom skates out of your favorite shoes.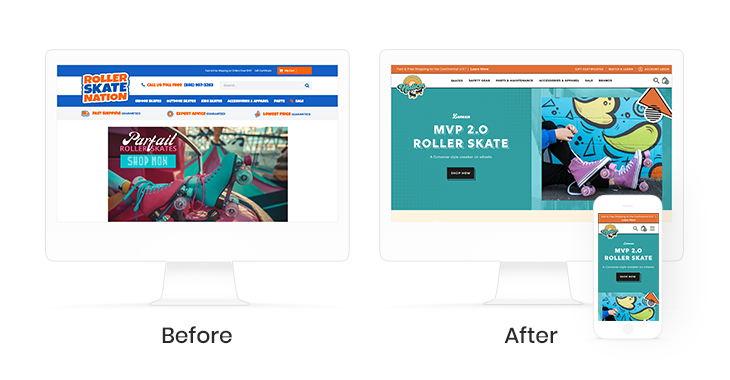 Project Objectives
Roller Skate Nation has a strong social media presence but wanted to make sure their website matched their profile on social media. Our main goals included: Revamping their branding including the logo and colors Incorporating a retro vibe in their user-friendly eCommerce website
Website Design
For the rebrand, our team had a lot of fun incorporating a sticker-feel to the new logo along with the retro styling that connects to the nostalgia around roller skates.
Website Build
The Roller Skate Nation website was built on BigCommerce. Part of our redesign involved bringing their site up to date to the newest Stencil theme since they previously used Blueprint.
Want to learn more about this website build or interested in your own? Contact us.