Project Description
eCommerce Website for Leader in Water Sports
Wakeboarders know the Ronix name. They created the first ever wake board in 1990 and today are the leaders in wakeboard, wakesurf, boot, and vest technology. The Ronix products are available across the US and the company needed an eCommerce website that allowed all fans to easily make purchases, check out new products, and learn more about what Ronix has to offer.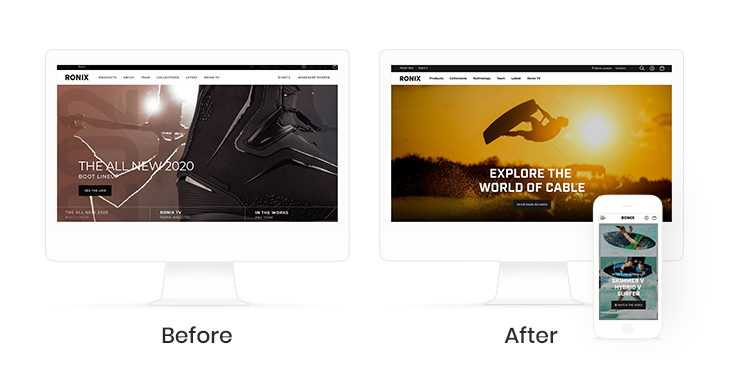 Project Objectives
As a water sports company, Ronix really wanted their website to include movement and action. Our main goals included:
Adding hover features and movement to the pages to create an interactive experience
Create a site that stood out from competitors in their industry
Website Design
Ronix has been a long-time client of efelle creative. We do redesigns for their site periodically and for this version, we used FusionCMS. It allowed for extremely customizable pages and even gave all the options for hover and movement that we wanted.
Website Build
We also incorporated third-party scripts like 3Kit to have 3D displays of the products and TryInteract for a product quiz finder.
Want to learn more about this website build or interested in your own? Contact us.