Shopify Website Design For Texas Canvas Wares

Project Description
eCommerce Website Design on Shopify for Texas Canvas Wares
Texas Canvas Wares creates high quality, durable, and affordable canvas aprons for various different uses. Their goal is to provide high-quality gear for those who understand the value of a hard day's work.
Project Objectives
The previous site for the brand was more of a placeholder, so we were excited to start with a clean slate on this project. The brand look and feel was rugged, clean, modern, dark, and trustworthy. The goal was to portray the quality of these products while showing this stems from the understanding Texas Canvas Wares of working in the places potential customers will use this.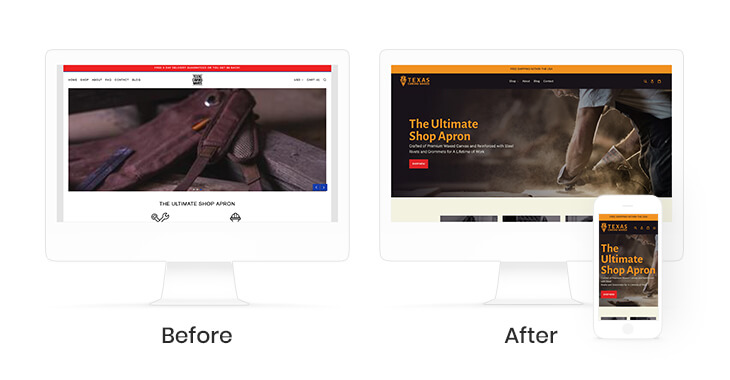 Shopify Website Design
The design of the site was made to look clean and professional, while also keeping a rugged long and feel. We used clean images of the product, as well as lifestyle imagery of the products in use to give the user a good idea of it in both instances. The lifestyle imagery showed the aprons in use, showing off their versatility for construction work, welding, woodwork, and even barbecuing. We used similar photo filters to create a cohesive look on all accent and lifestyle photos used on the website.
With a smaller product line, it was important that each product was highlighted, while we still left room for the brand to grow as they expand their product line. The homepage currently pulls in featured products, which the team at Texas Canvas Wares can continue to customize as their business grows.
Shopify Development
The site is built using Shopify, giving the Texas Canvas Wares team access to a powerful and easy to use eCommerce platform. The build on Shopify allowed us to pull in a number of great apps to help optimize the site, including shipping platforms, blogging options, and apps like Elfsight to pull in their curated Instagram feed.
We used a few general templates to include FAQ, affiliate links, shipping and return policies, and more. With Shopify, these pages are easily duplicated for the client to continue to build out their information.