Project Description
Professional Services Web Design for Vector Services
Vector Services is, first and foremost, a Service Disabled Veteran Owned Business (SDVOB). They provide ancillary underground construction and workforce services across the country that are scalable to any project with our partnerships and workforce capabilities. They advance companies, launching purposeful careers and executing quality work daily. They also comprehensively understand the veteran advantage - specialized skills, integrity, determination, and grit.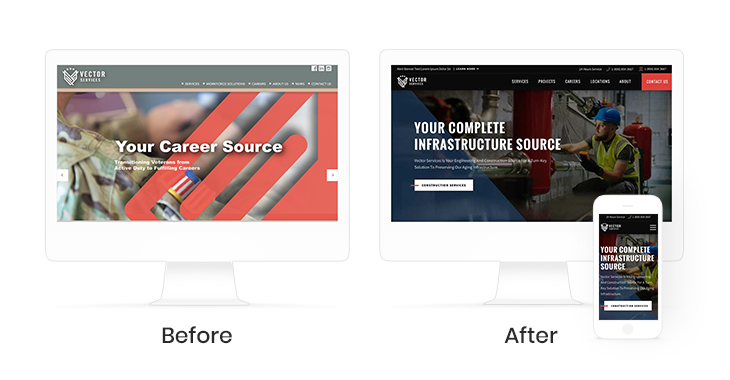 Project Objectives
For this website redesign, Vector Services wanted something corporate but unique. Our main goals included:
Create a new brand guide including Powerpoint Decks based on new website
Design an approachable and engaging website that is the perfect mix between professional and unique
Website Design
Our design team built a new brand guide for Vector Services based on this website redesign. They also created Powerpoint Decks based on the look of the new site.
Website Build
The Vector Services website was built on FusionCMS which allowed for all the customization this company needed. We also incorporated elfsight to power their social media feed which pulls into the news page on their website.
Want to learn more about this website build or interested in your own? Contact us.