Project Description
Custom Website Design for PNW Based Furniture Brand
Watson designs & builds distinctive office furniture in the Pacific Northwest with unmatched beauty, simplicity, and durability. They produce furniture that is not only beautiful but thoughtfully and sustainably designed and manufactured right here in the Pacific Northwest. The team at Watson is passionate about designing and building furniture to celebrate the genius in businesses.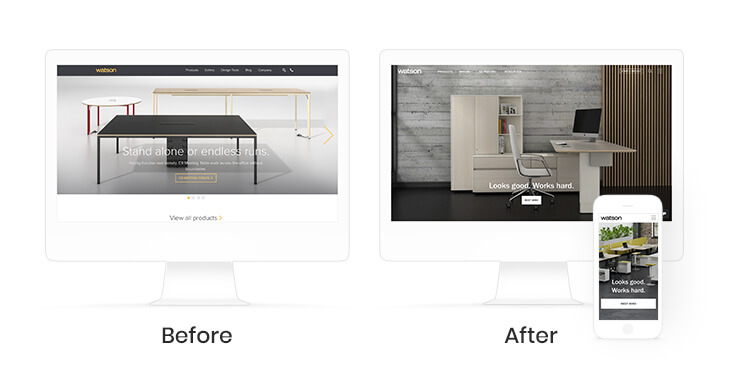 Project Objectives
The goal of this project was to create a site that was more robust -in terms of both the design and functionality- for the Watson Furniture team. With furniture that is thoughtfully and sustainably designed, the website needed to better tell the brand story of Watson.
Website Design Notes
The brand of who Watson is plays a crucial role in what they do - they are approachable, innovative, green, and designed for people who really care. The thought that is put into every single piece of furniture is immense, and they sell to those who understand. The website design needed to reflect this throughout the build and design, with the overall attributes showing a clean, European aesthetic with a PNW vibe. We kept a raw look and feel with a lot of movement between light to dark space, and pulled in trees subtly throughout the design to pay tribute to their PNW roots.
We included videos as backgrounds throughout the site, which gave movement, but built them into the site strategically so as to not slow down the site speed. User experience was top of mind throughout the design and build, mixing an enticing user experience with an efficient one so that users were engaged with both the design and content of the website design.
Product Page Design
Each product is designed thoughtfully to work on its own, as well as with the rest of the product line. With that in mind, it was important that each product page was designed around each product and customizable based on the information provided. The product pages each have their own sub-navigation that allows users to see a robust overview of the product, then find details and specifications, available finishes, then see it as part of the entire collection, and even feature the designer who made the products. These robust product pages are built to show off the product as well as possible, being the next best thing to actually seeing these beautiful creations in person.
Website Development
With content and customizations at the forefront, we built the site using FusionCMS. The team at Watson wanted full control of their site and not be limited to a box, letting their products shine. To handle this, we built out customizable templates - every page is unique, yet replicable, and we included an extremely robust subpage with tons of features and sections the Watson team can include for their future pages.
FusionCMS also allows for the site to have robust asset management, including images and PDFs, as well as embedded forms for the team's CRM, Pardot.
With a keen eye for knowing how their users shop, the Watson team knew it was important to have robust filtering for all products, as well as display the wide range of finishes available on Watson Furniture. Finishes are integrated with products and also have their own page, allowing users to shop based on finishes or products. Our personal favorite is the whiteboard finish that allows users to collaboratively work at a Watson table!
Finally, another favorite part is the hotspot functionality throughout the site, creating an interactive element for users to hover over and learn more about specific aspects of the product. With every inch of every product being designed with a purpose, it was important that users were able to see this through the website.