Project Description
Headless eCommerce website Design & Development for XKGLOW
XKGLOW creates and sells high-quality light accessories for cars, off-road vehicles, boats, and much more. They began their business in 2009 with the believing the industry was filled with generic design and low-quality lights.
Before partnering with efelle, the team at XKGLOW felt their website wasn't space to really show off the brand and didn't give their high-quality products the attention they deserved.
Project Objectives
Previously the XKGLOW website was hard to navigate and wasn't a good platform to show off the products in a way that showed the quality and design that was behind them. The team wanted a site that matched their personality, increased conversion rates, and help them stand out against their competition.
Headless Commerce Creates Content Focus
We created XKGLOW with its content at the forefront throughout the entire process. When the team came to efelle, they already had an incredible amount of content. With such a popular product, it's not difficult for them to have a plethora of content including high-quality photos, videos, and even some GIFs.
With that in mind, we chose to move forward using BigCommerce as the eCommerce engine and use a headless commerce approach. Headless commerce puts content in the front seat (of the tricked out XKGLOW car, obviously) without compromising the power of the eCommerce engine.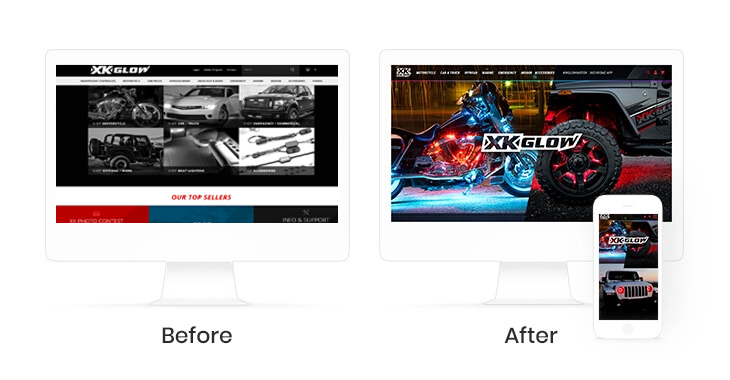 Strategy & Design Process
We wanted the new XKGLOW site to show off the personality of the brand, while also inviting users to explore for themselves. We researched to find the most intuitive user paths and make navigation more user friendly to allow for users to get to the products they need as quickly as possible.
Our goal with the user journey was to attract and wow the user right on the homepage - showing off the product through a feature video, hot spots, and featured products. From there, we engage the user through calls to action that guide them to achieve their goal and find the product they're looking for.
We really utilized the flexibility of headless commerce on the XKGLOW App page of the website. This was important
Development Process
We built this site with a headless approach using FusionCMS to power the content and BigCommerce as the eCommerce engine. Through FusionCMS we were able to implement our custom design and put content at the forefront of the entire site. With BigCommerce, we are able to build stores that have a powerful eCommerce engine along with lots of customizable apps.
The site previously was not very mobile friendly. Although it was responsive, the experience for the user was not intuitive and often caused a high bounce rate. With such a large social media presence, we put importance on having a mobile-first design so that users coming from Instagram or Facebook on their phone would have just as interactive of an experience as they do on desktop.
User-Generated Content & Social Media
With a large Instagram and Facebook following as well as hundreds of photos and videos of user-generated content, it was important to include that community on the XKGLOW site. Through the app store, we included an Integration with Trustspot for reviews and customer images. This includes the ability to tag products in a user's Instagram images, creating a smooth omnichannel experience.
Ready to Up your eCommerce Website Design?
Learn how you can bring your website design to the next level with efelle creative. Fill out the form below and a Digital Strategist will reach out and share how we can get things started.