About Us
We partner with industry-leading providers to deliver the best for our clients.
At efelle, we're constantly looking to provide the best technology solutions for our clients. From eCommerce engines to hosting solutions, our team of experts has thoroughly researched each of our partners to make sure our clients are getting the best possible solution.
Here are a few of our partners. To learn more about each, check out the full list below: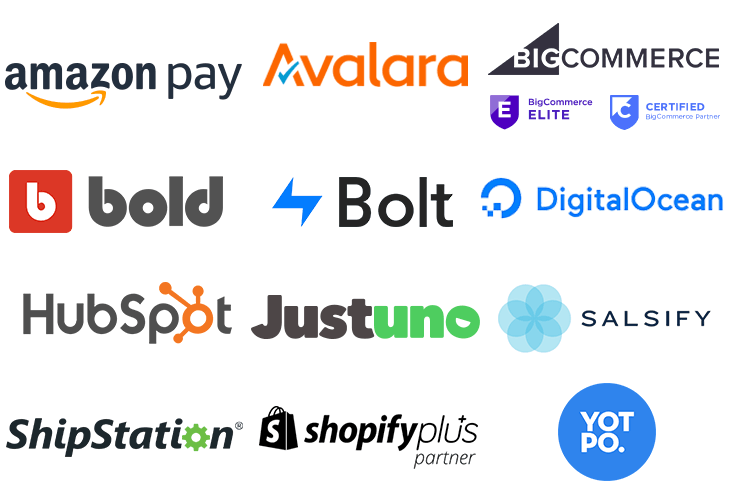 To learn more about our partnerships, check out a few of our partnership pages below:
Amazon Pay provides an easy to use payment processing service that let's customers pay in their preferred way without ever leaving your site.
Avalara helps businesses with automated tax compliance standards.
BigCommerce is a robust eCommerce engine that powers businesses to build scalable growth.
Bold provides a number of different plug and play apps to optimize your eCommerce store.
Bolt provides optimized checkouts based on your users, along with state of the art fraud protection.
Digital Ocean provides very high performing servers with a large network to keep sites up and running.
Hubspot provides a number of amazing tools to grow service and eCommerce businesses alike, from CRM to email automation.
Justuno uses AI programs to convert users based and increase eCommerce revenue
Salsify provides robust product inventory management software for its clients.
Shipstation makes provides efficient solutions to shipping, including competitive pricing and robust shipping solutions.
ShopifyPlus is one of the most popular eCommerce platforms out there, giving clients the flexibility to build with product first solutions.
Yotpo is an eCommerce solution providing a platform for customer reviews, gathering UGC, loyalty, and more.
Interested in optimizing your website?
We're the partners to help. Fill out the form below to learn more.