Project Description
B2B eCommerce Website for Cosmetics Technology Company
Aptly named Bath Bomb Machine has been in the business of helping other companies bring professional, custom bath bombs to market for the better part of a decade. Though a family-run company at heart, BBM is primarily headed by a mechanical engineer and self-proclaimed "tinkerer" who has spent years perfecting the company's flagship product, the B-3 Bomber.
The BBM team came to efelle looking for a website that could capture the sophisticated and high-tech nature of the B-3 Bomber and other BBM products.
Project Objectives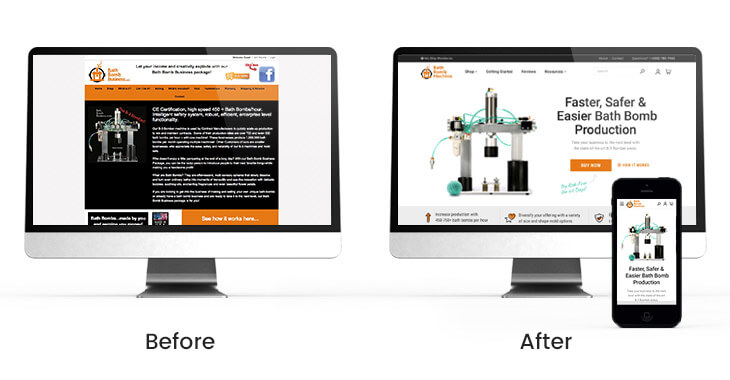 The BBM team's primary objective for this project was to combine their two existing websites; they were working with both an overarching corporate website and a separate eCommerce website and this was proving inefficient and unmanageable. With their designs starting to look dated, they knew it was time to consolidate. Designing and building a single, cohesive website would both give them the chance to both modernize the look of their brand (while maintaining a bold feel) and improve the company's search engine performance.
In addition, the BBM team sought to inspire more conversions on their website by trimming away unnecessary content and clutter, instead making room for clear calls to action shine through.
eCommerce and Corporate Website Solutions
Our design for Bath Bomb Machine brings both corporate and product purchasing information onto a single domain while offering elegant separation between these areas of the site. Product information, store pages, and other B2B resources are all linked to from the main navigation menu next to the logo; true to user expectation, the "Shop" link appears first. Meanwhile, the smaller black navigation bar at the very top of each page links off to further information about BBM as a corporation.
Having all assets under a single domain name not only allows for a more intuitive user journey, it also adds strength to the primary Bath Bomb Machine domain name, boosting SEO and making it easier for potential customers to find exactly that they're looking for.
Additionally, this solution makes website maintenance twice as easy. Most assets can be updated from a single content management system (fun fact: BBM was designed for and built on our own content management system, FusionCMS) meaning that any global company changes—for example, an address or phone number—can be managed in one spot using one set of login credentials.
The only items that need to be updated outside of Fusion are the products themselves—these are housed on the BigCommerce platform. BigCommerce offers BBM a fast, secure environment for selling goods and processing transactions while making it easy to update product information and promotions. It also blends seamlessly with Fusion; we built the store's custom architecture and page layouts on Fusion, pulling in product information to each of these pages from BigCommerce via API. In other words, we can leverage all the power and security of the BigCommerce platform without having to stick to a templated eCommerce theme!
Website Design and Development Successes and Bonus Features
As with all our website designs, we built the Bath Bomb Machine website to be mobile responsive. Elements collapse attractively on smaller screen sizes and content across the site is optimized to ensure fast loading times regardless of connection speed.
Some of the extra special design features we incorporated in Bath Bomb Machine's new website include fun, hand-drawn accents and iconography, bright product image cut outs, bold sans-serif fonts, and a comprehensive—though finely tuned—use of white space. Together, elements like these convey that BBM is on the cutting edge of technology and emphasize the contemporary vibe the BBM team was looking for.
Another fun feature that's as functional as it is modern? Google Translate. We built out a drop-down menu of available languages in the top right-hand corner of the website; this pulls in Google's singular translation technology across the site when a user selects a language. Considering that BBM ships worldwide, the value of this feature cannot be understated.
We also brought special focus to product reviews by designing and developing a dedicated Reviews page. Here, the BBM team can feature quotes and testimonials of any and all lengths, with longer entries linking off to detail pages (also referred to here as "Case Studies"). As a bonus, each entry can be assigned a media asset, whether an image or video, helping to drive home the effectiveness of BBM's product line.
Finally, we built out a custom blog section for the BBM team. A well-crafted blog can benefit any business in a variety of ways; in BBM's case, not only will their team be able to spotlight featured products and share company news, they'll also reap the benefits of the SEO boost websites receive from regular updates.
With this new website that's at once bold, clean, and maintainable, it's inevitable Bath Bomb Machine will make a lasting impression on the face of the bath cosmetics industry.