Bergman Draper Oslund Udo

Project Description
Website Design for Seattle's Largest Law Firm Dedicated to Mesothelioma
Bergman Draper Oslund Udo has been fighting for mesothelioma clients since 1995 and is the largest firm in the NW dedicated to these cases. With its small team of passionate and experienced attorneys and a singular focus, Bergman Draper Oslund Udo connects with their clients on a personal level, fights for them, and wins. The firm's compassionate approach and extensive database of asbestos-related resources get results.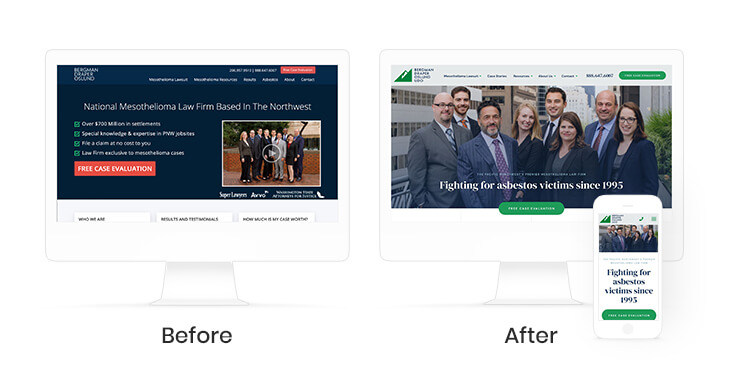 Objectives
The main goal of this redesign was to create a beautiful website that is easy for users to navigate with streamlined site architecture and content as well as clear calls to action. The team at Bergman Draper also wanted to make sure that the design overall gave off a professional look that showcases the firm's successes. And finally, the team at Bergman Draper wanted to develop an effective SEO/SEM strategy to reach their audience and bring people to the site.
Law Firm Website Design
When it comes to designing a website for a law firm, there are definitely some best practices we like to follow, like giving off a professional feel and relaying the firm's credibility and expertise. The way we implement these best practices is based on the target market and personas specific to each firm. For BDOU, there are two primary audience segments on the site - victims of Mesothelioma and their adult children. We also took into consideration a third group being personal lawyers who may be looking to recommend a law firm to clients dealing with Mesothelioma.
With these target audiences in mind, it was important to share the amazing results that BDOU gets for their clients with testimonials and case results early on in the site. The homepage design features easy access to all of this information, as well as calls to action immediately for the clients to reach out.
Using the CTA, "Free Case Evaluation" the BDOU team is offering value right off the bat and helping users feel like they've found someone they can trust during a potentially scary time. We also included a number of the video testimonials that the Bergman Draper team had on hand to further build trust with the user.
Throughout the site, we use a serif font to highlight both headings and important stats around the cases. The colors of the site use a calming navy blue, with a kelly green used to highlight calls to action.
Website Development on LawFirmFusion
From the start, it was important to the Bergman Draper team to have a site built with solid SEO that could allow for their growth. We wanted to put them on a system that gave them a lot of power and was made specifically for those working in the law industry.
The site was built on LawFirmFusion, which is a CMS part of the FusionCMS family that was made specifically for law firms. With this, they have only modules that they need to update the site, as well as the power to update meta-tags, URLs, and can rest assured that their site was built on clean code, making it an optimal CMS for great SEO results.
Digital Marketing for Bergman Draper Law Firm
We're excited to continue to partner with the Bergman Draper Oslund Udo team to help them find the right clients and direct them to their site using a custom digital marketing strategy for them compiled.