Grow Your Firm with Custom Digital Marketing and Website Design for Law Firms
Updating your digital marketing strategy can seem like a daunting task, but it's a critical part of the legal industry and a must if you are looking to grow your firm. At efelle, we have spent the last 15 years working with all types of legal teams to define digital marketing strategies and design award-winning websites that deliver results. Our approach starts with truly understanding our clients and finding what strategies will work best for them.

Understanding Your Law Firm and Goals for Digital Marketing
To best understand how well your digital strategy is performing, you must define measurable goals that will indicate success. Some firms want to engage their visitors more, so they look to decrease their site's bounce rate with a redesign. Others are looking for more leads for a specific practice. Once you have measurable goals outlined, you can then start preparing for your website project and finding the right team to work with.
At efelle, we build every digital marketing strategy from the ground up and completely custom to your firm's current stance. Our experience in the legal industry has led to over 100 effective marketing projects with firms of all sizes across the country.
Determining your Legal Marketing Strategies to Grow your Practice
As legal marketing consultants, it is our responsibility to be knowledgeable of different types of digital marketing tools to help you reach your goals. If you engage with efelle, our team of strategists will work with you to identify what tools make the most sense for your team.
Successful legal firms have a great understanding of their brand, target market, and strategy to reach their prospective clients. Our team's offerings will help in all three aspects to position your firm for the future, or simply fill in the gaps where your firm may be struggling. We can help your team with:
Brand strategy
Persona development
Content management systems
Content creation (blogging, video, webinars, eBooks)
And more!
If you need some more time prior to engaging with an agency but would still like some direction on what to focus on, try utilizing this ten-step guide to a successful website project.
Why Your Law Firm Website Design Matters
Most prospective clients or partnering attorneys will need to visit your website to gain a better understanding of who you are. Whether they are a referral from a trusted partner or someone who met an associate at an event, chances are high they are going to do their research on whether you are the right partner for them. Especially in 2020, website design is more important than ever for businesses and firms.
Your website truly serves only a few purposes, but each is critical to the success of your website. Visitors need to understand who you are, what you do, proof that your team can deliver results, and the firm's value proposition. Your website should give the visitor a clear understanding of what it means to work with you and where they will see value in the relationship.
For smaller firms, their value proposition is often they will offer a greater amount of hands-on interaction. For larger firms, you might see examples of success stories where the firm won a big-time settlement. Showcasing your value proposition through your website typically takes fine-tuning of brand elements, written content, photography, and navigational structure to position the firm in exactly the right format.
This is no small task, but when you partner with the right team, all that is expected of you is to offer information on why people choose your firm. This allows your marketing team to take control of your brand presence and create a website that speaks directly to your potential clients.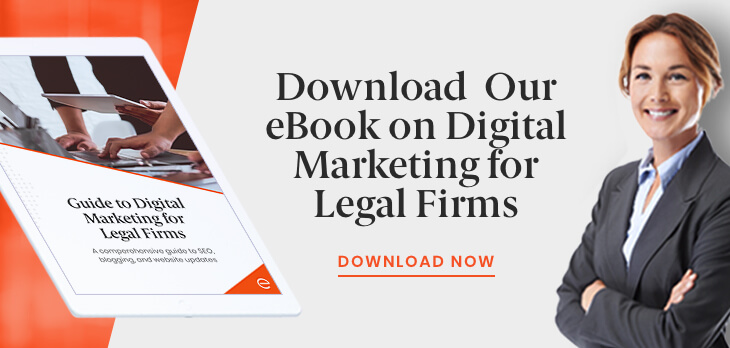 Improve Your Law Firm Website with Search Engine Optimization
Once a website has been designed, developed, optimized for different devices, and tested, you can launch the site and expect the leads to start filing in, right?! Unfortunately, it's not always that easy. Consider this. You can build the perfect house with all the right appliances, furnished for a specific buyer, and in a great location, but if that house isn't listed where people are looking, it can sit on the market for months without the right buyer coming across it.
The same goes for website design. While our website projects come with search engine optimization benefits, there are always ways you can improve your site rankings. Just because you turn the heat on in your house for the day doesn't mean it will stay warm all winter. Some of the best practices in regards to SEO for your site can be done with little to no technical knowledge. With an easy to use CMS, your team can boost your site's search engine value with targeted blog posts for industry news, ideas, and events.
However, the best way to start ranking higher on search engine results pages (SERPs) is to build inbound links to your site. Your site is credited with an inbound link every time another site on the internet links to your site. The more authority the linking website has, the more valuable the link is to your SEO value.
Whether you're looking to improve your SEO overall, target a new market area, or focus on a new service or product offering, our team of specialists are ready to empower you with enough SEO knowledge 'to be dangerous' and recommend effective and manageable ways to maintain your SEO.
Ready to Generate More Clients & Cases with Your Law Firm's Website?
Let our experienced marketing team of 30 web design and development professionals help you develop a professional website and digital marketing strategy. Fill out the form below to learn more: