Project Description
Website Design for Seattle Law Firm
Bush Kornfeld is a unique Seattle firm that works with mid-sized companies in many industries, including shipping, agriculture, and fishing, that are in various stages of bankruptcy. They provide services for both debtors and creditors and their creative solutions to very complex problems have offered great financial relief for many, resulting in a strong reputation in the industry. As their clientele have increasing national reach, they would like to present a modern, easy to navigate website site that conveys their expertise and authenticity a warm and welcoming tone.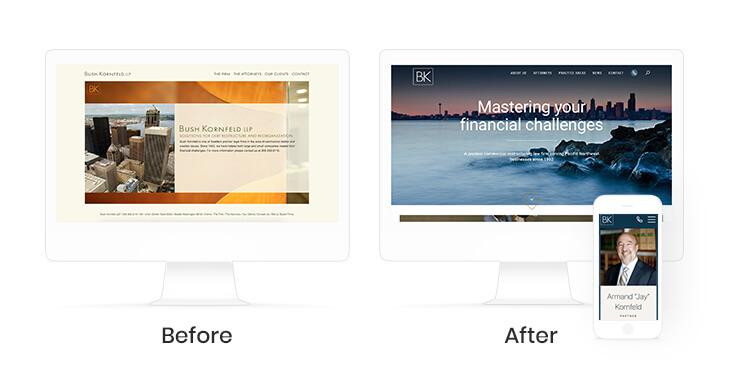 Project Objectives
The goal of this project was to update the overall look of the site to be more modern and intuitive while conveying the firm's high level of expertise. We wanted to better showcase practice areas and industries as well as provide any necessary information to current and potential clients.
Law Firm Website Design
We designed the site to reflect the firm's exceptional reputation as leaders in their field, while also designing it to be warm and welcoming. The design is clean and modern without being cold and uses imagery that is reflective of the many industries
The entire design allows users to easily find the content they need - whether it's learning more about a specific attorney, finding relevant practice areas, or looking for updates from the firm under news and insights. We wanted to optimize siteflow for SEO through navigation, with clear calls to action for the users to be able to to contact the firm quickly and easily.
Website Development
As a law firm website, we built this site to be optimized for SEO so it can be found, as well make sure the site flow was intuitive when users landed on it. The site is built on FusionCMS, which makes it easy for the Bush Kornfeld team to edit, as well as has a strong base of search engine optimization by being built on clean code with their specific keywords.