Project Description
Wealth Management Website Design
Founded in 1995, Chaney Capital Management has been providing clients from all walks of life with exceptional, comprehensive financial advice. Located in Lynnwood, WA, their dedicated team guides clients through various life events by providing effective, quantifiable solutions to their financing questions.
Project Objectives
The previous Chaney Capital site was outdated and lacked the ability to easily update.
For new prospects visiting the site, the outdated site was not an accurate reflection of the Chaney team. As a whole, Chaney Capital is a well-respected and highly-regarded comprehensive wealth management solution provider. The team wanted for the site to better represent their welcoming office, express relevancy to all ages, and promote their professional, relatable team.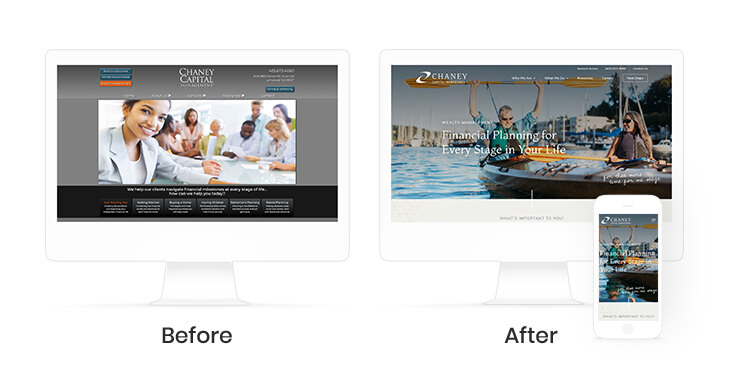 Website Design Notes
Chaney Capital truly believes in investing in people, and their target audience can vary from a young person looking to buy their first home, to an older couple looking to retire. With that in mind, we wanted to design the site to show a number of different life stages and appeal to users at any stage of life.
We began by creating style tiles. Style tiles allow us to provide a general look and feel before designing the homepage. We choose fonts, colors, headings, photography styles, buttons, and etc. to give a general look and feel. We ended up choosing the one that shared the following words of guidance: Approachable, Warmth, Local.
The website design uses blues to match the logo, as well as warm beiges and tans to compliment it. The fonts used match the logo font, as well as include a handwritten font as an accent throughout the site to provide a personal touch. These are used throughout the site to keep a consistent theme that appeals to the welcoming team of Chaney Capital.
Website Development
The previous website was very difficult for the Chaney team to update, to the point where they couldn't even add a new team member to their site! So, it was important that they were put onto a platform that was easy to use and make changes to. We built the site using FusionCMS content management system. This system allows the Chaney team to easily make updates to their website. Whether it's editing some information on a service page, adding a new team member, or changing out a photo on their homepage, it's as easy as dropping in a new photo on the backend for a quick and easy update.