Project Description
Website Redesign for Multi-Location Collision Repair Team
Crash Champions began in 1999 with the goal of providing manufacturer-certified repairs and industry-leading performance. Since then, they've grown to have numerous collision centers throughout the Chicago market and midwest region.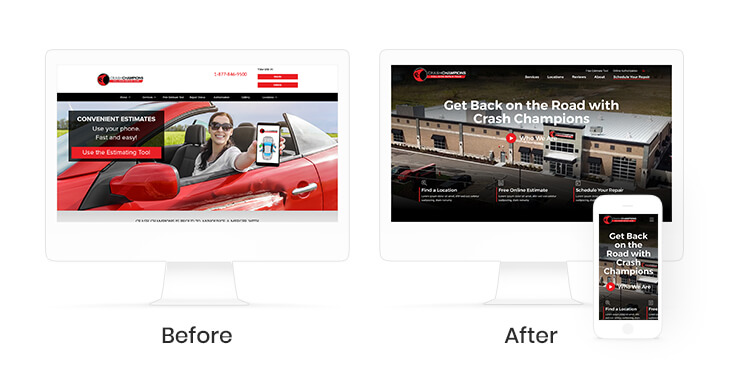 Project Objectives
As specialists in collision repair with high tech, modern, approach, the Crash Champions team wanted to reflect that on their new site. We wanted to create a cleaner design, as well as make sure that users were able to find their multiple locations and find the one that was closest to them.
Website Design
In terms of design, we wanted to match their black, red, and white brand colors, while also keeping a clean and modern design. The Crash Champion team prides themselves on how different they are from their competitors in terms of technology use, as well as how clean and modern their facilities are, so we wanted the website design to reflect that. Throughout the site we use clean and modern lines and use their red color as an accent and for calls-to-action.
Right away on the homepage, we prompt users to three calls to action -- giving the option to schedule a repair, get a free virtual estimate, or find a location. With users with varying levels of familiarity with Crash Champions, we wanted to provide multiple options for them to be able to contact them. Throughout the site, we keep these multiple contact options at the top of the header, as well as continually highlight the multiple locations and services.
Website Development
We built this site using FusionCMS so that we could create this custom design and utilize modules to make it a streamlined website experience. Using the CMS, we are able to create robust service and location pages. The service overview page highlights all the services, as well as reiterates why customers should choose Crash Champions for any of these services. On the service detail pages, we can highlight more details of the service and feature a call to action at the bottom to schedule each individual service.
The locations can be found via a map or by searching each state. Then each location has a landing page with its hours, location information, phone number, and even photos of that specific location. The services at each location are highlighted as well, and we link custom contact forms to each location page so they can go to the relevant location contact.
As Crash Champions continues to grow, they'll easily be able to add a new location page with the relevant information, create a new custom location contact form, and link to the relevant services, all quickly and easily within the back of the CMS.