Construction Website Design for HST

Project Description
Website Design for Seattle Construction Company
HST Construction has been serving the Bellevue-Seattle area for over a decade providing tenant improvements to office spaces, with a growing list of services they provide. They have a strong focus on being customer-friendly and focused on the client, providing services with an open-book and open-minded approach.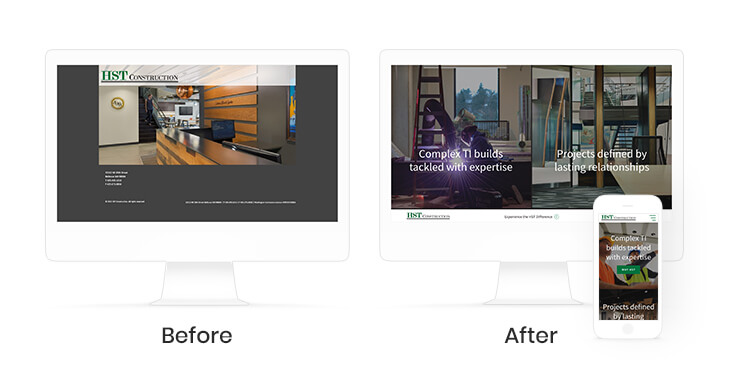 Projective Objectives
HST Construction has served the Bellevue-Seattle area for the last decade, focusing primarily on tenant improvements for office spaces. With this project, they wanted to establish themselves as a premier provider of services all while conveying what makes them different from competitors – a process that is customer-friendly and focused on client experience versus formality and sales.
Construction Website Design
The team at HST Construction wanted the new site to be friendly, approachable, authentic, and professional. We wanted to use content to drive the site, using their high-quality photos to show off their projects and team photos to show off their culture. We used mostly neutral colors, focusing on black and white with the accent being their branded green color.
We designed and built the construction firm's website to be extremely flexible, making it easy for the team at HST to be able to turn portions of the site on and off, show different modules, and more. This allows them to be agile, shifting the focus of their site depending on different campaigns and goals for the HST Construction team.
Website Build and Development
Although it seems small and lean, this site is mighty. The team at HST is driven and hands-on and intent on getting it right, allowing us to work with them to build out the CMS to be extremely flexible based specifically on their needs. The site was built to be extremely flexible, and with FusionCMS they now have a site that is truly theirs.
With their eyes on growth, the site is designed to allow for expansion with things like blogging, and filtering, which can easily be linked into the site through the CMS. The HST site also has automatic PDF generation built in for the project profiles, making it easy for customers to download their favorites and have all necessary information at the touch of a button. The PDFs automatically update with any changes made on the CMS, keeping information cohesive and easy to update!
If you're looking for your own robust construction website, fill out our contact form here.
Project Type:
AEC Website