Project Description
eCommerce Website Design for D2C Brand Humble Deodorant
Humble Brands grew out of founder Jeff Shardell's quest for ways to detoxify his life after a career in tech and the stresses associated with it. He found his solution in deodorant after learning that 100% of what we put on our underarm is absorbed into our bodies and decided to create Humble Brands.
Project Objectives
With a growing business, the team at Humble decided they wanted a site that would help them continue to grow with a solid backend structure. Their more tangible goals included having a mobile-centric site that appealed to their target demographic while also being playful, approachable, user-intuitive and aesthetically charming.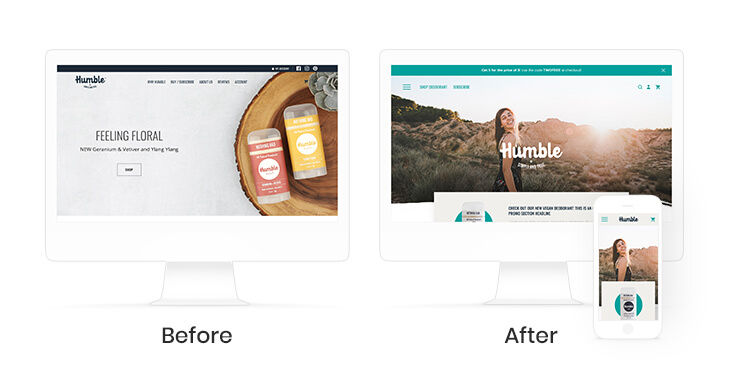 The Design Process
We discussed approaching the design from the standpoint of persona development. The goal was to develop a couple of personas for the brand, and then fold in color theory and UX design. We determined that we would proceed with the design process with persona development as its foundation, and then loop in user testing. With the personas and target buyers in mind, we were able to guide audiences to make the best and most likely purchase decisions.
We wanted to highlight the simplicity of the product and it's 5 ingredients by showing a visual representation of the ingredients in each product. You'll see the natural elements throughout the site, as well as one of our favorite little delights - hovers over products produce a view of the ingredients in each one.
The site was inspired by the mystique and desert living of the southwest. Through patterns, imagery, and font treatments, you'll see nods to the southwest.
eCommerce Development
The site previously did not have a lot of the functionality needed for Humble as much as they were growing, so we were excited to build out the functionality that would allow for them to have scalable growth.
With education being an important part of the buyer's journey we wanted to allow for content to be at the forefront, so we paired FusionCMS with BigCommerce. FusionCMS allows for the customization of the design and flexibility with content, with BigCommerce powers the eCommerce engine.
Subscriptions
As the popularity of subscription services continues to grow, the team at Humble saw the opportunity to build out their offerings for their customers. We partnered with Rebilla to provide subscription services on the site.
The subscription allows customers to save 10% and choose how often they want it to be sent to them. This is great for users who want to take advantage of their savings, and also for Humble to build a consistent base of return customers.