Project Description
Website Design for Seattle Based Business Serving Puget Sound
Landmark Roofing has provided excellent service to the Puget Sound area for over a decade providing roofing, siding, window, and restoration services. Landmark Roofing's values and trustworthiness as a family-owned business, as well as their high level of credentials and certifications, have made them one of Seattle's top roofing services. They work hard to ensure the best possible end-product for their customers and take pride in providing quality service.
Project Objectives
The goal of this redesign was to create a better user experience using modern design, better calls-to-action, and increased organic SEO. We also wanted to showcase and explain what Landmark does, while also highlighting how Landmark Roofing goes beyond competition by offering unique services and better customer service.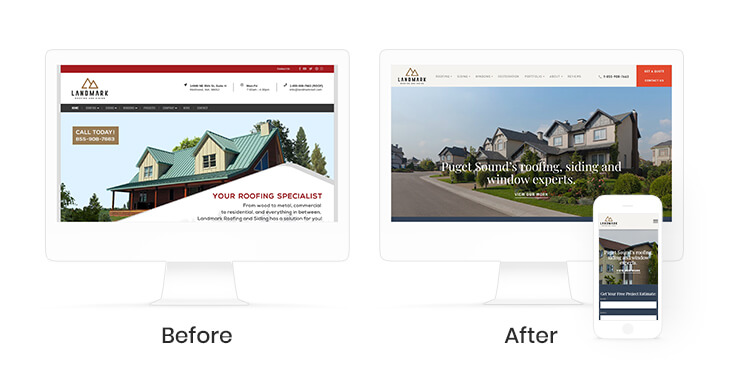 Website Design
Overall, we wanted the website to be modern, engaging, friendly, authentic, and approachable while giving some strong PNW vibes. We designed the site so that it would have a clean feel that is easy to navigate and view the multiple different services they offer.
In their industry, reputation is an important part of doing business, so it was crucial that the design emphasized client testimonials, industry credentials, and certifications and used high-quality photography. The site balances the use of lifestyle photography with their work to emphasize both their commitment to their customers' satisfaction, as well as reminding them that they are a family-owned business.
The design of the site also features a pretty neutral color palette except for the calls to action that offer a bright pop of color to peak the user's interest.
Website Development
With new projects coming in all the time, the Landmark team wanted a site that would allow them to easily update their portfolio with new images and information. We developed the site so that they can easily add new portfolio pieces as well as testimonials from their clients. These testimonials pull in throughout the site and update as the client updates them as part of their CMS build.
The site uses clean code and FusionCMS to be optimized for search engines. The CMS is a powerful tool for the team to use to get a holistic picture of their digital marketing initiatives.